ohmygoodness, it's been a while! i've been so busy, it's just been ridiculous!
after my last post, i had some bad health weeks (as usual), went to a wedding which wore me out immensely, and then started on a super intensive secret project that basically had me sleeping and sewing for two weeks straight! i was supposed to leave for a holiday last tuesday, but due to exhaustion and stress and a whole bunch of family stuff (my poor little sister was in a car accident 3 days before we were supposed to leave! she's okay, just sore), it was canceled. i'm sad that i'm not going but wow, what a relief at the same time! that gave me time to finish up round 2 of the dotee swap, which i was late for, and now i can finally breathe again! and start catching up on here and on craftster!
since i've just finished the dotees for round 2 of that swap, it's about time i posted the ones i made for round 1!
i have to say i wasn't completely happy with these ones (i love the ones i made for round 2 way more!). they were fun, but i think i tried to make the shapes too wacky...
the faces were all made with iron on transfers ironed onto white felt. i chose the felt because i wanted something non-fraying, and it worked really well. before i printed the faces, i changed the colour tones in photoshop to match them to the fabric colour, and i love the effect.
the two blue ones -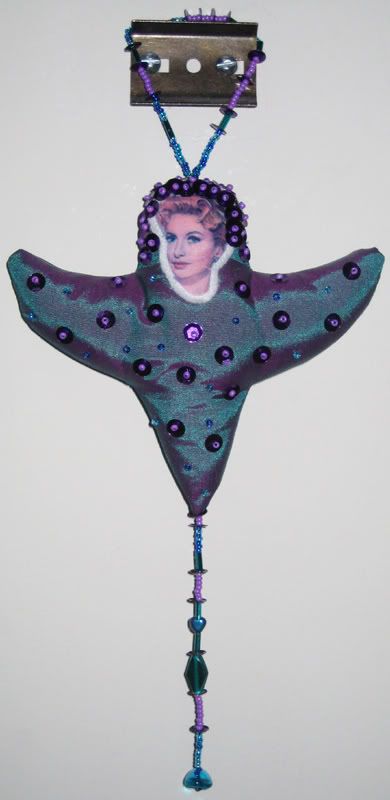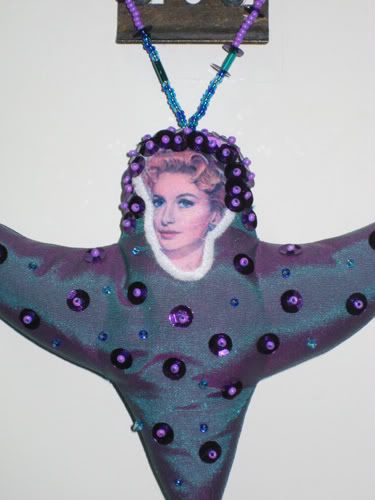 (this face is from an old ad - i think it's
deborah kerr
, though that was just a fluke!)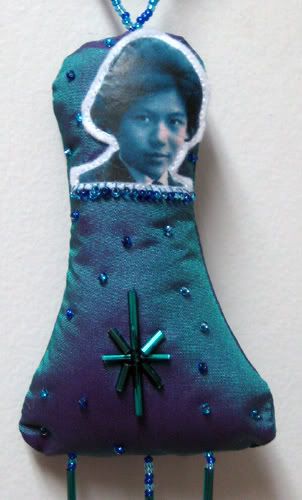 (the face for this one came from a bunch of old photos than
Jane Doe
sent me - she was my favourite!)
the green ones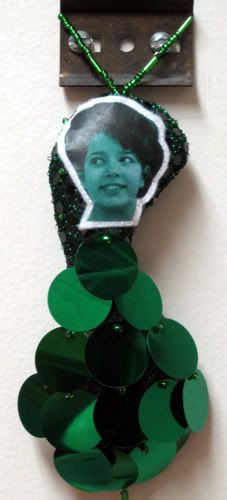 (this face came from vintage photos purchased from
thepaperfleamarket.com
)

and the red ones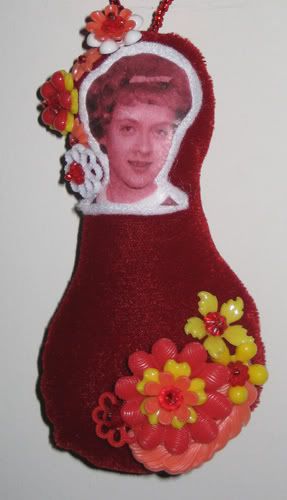 (this face came from vintage photos purchased from
thepaperfleamarket.com
as well, i ended up with a few photos of this girl! the flowers are vintage beads purchased on etsy)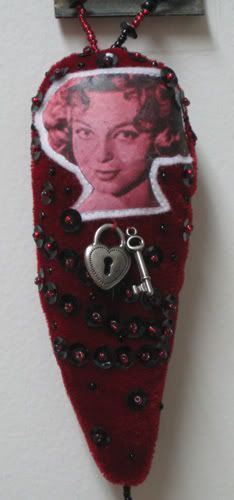 this one was my favourite! it's most my style i guess. and i looooove the red velvet i used, it's the same stuff i used for
the sacred he(art) chunky page
.