ah! catching up time!
i've had atcs received for two different swaps since i last posted any, so i'm going to post them together.
the first was the typical alphabet swap, GHI round. i was organizing, and ended up in two groups just to keep the numbers even, so i made two of each letter.
G is for games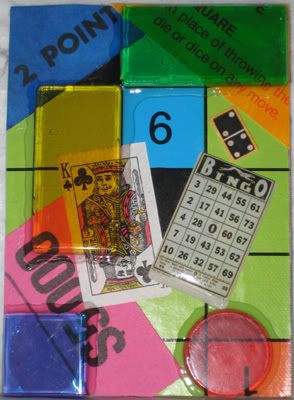 a piece of a game board for a background, paper pieces from games (the top two i inked with stazOn to add colour), the mini playing card (from skybluepink), bingo sticker, bingo chip, and colourful game pieces. i put glossy accents around the edges of the pieces, but i'm kinda eh about it....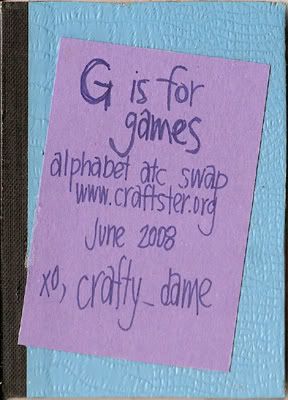 see! boardgame!
G is for gate and garden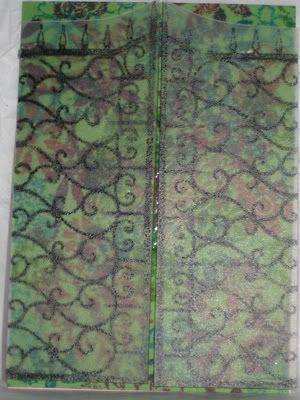 the gate is made from thin flexible plastic (i think it was supposed to be a very thin cutting board) and i did a solvent transfer with a blender marker to transfer the gate image onto it.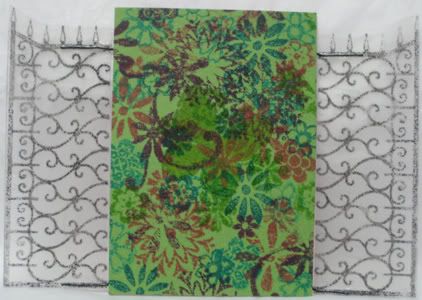 the garden behind the gate! a bunch of flower stamps, all inked with nick bantok water based inks, and then an embossed butterfly that's green, and kinda hidden. you can also see the backs of the gate pieces, and the black button thread i glued on to make the hinges.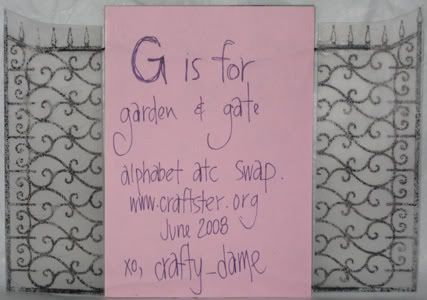 the ends of the thread are caught between the front and the back, you can kinda see the bumps
H is for hands and hearts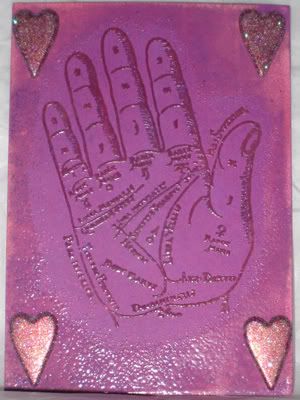 palmistry hand stamp from alpha stamps stamped with red and then embossed, and then pink ink embossed around the edges. the colour varied by how much heat was applied, so i played with that a bit, you can see some lighter spots. and the glittery purplish pink hearts are fun brads.
H is for halloween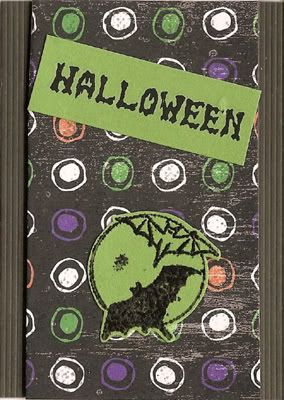 mostly just an excuse to use halloween goodies! rub on transfer for "halloween", and the bats are stamped and embossed. the polka dot paper is glued to mat board, so it's raised from the background.
I is for india
i was gonna do something else for I, but after i planned out the
india chunky page
, i realized i already had it all worked out, i might as well use it for this!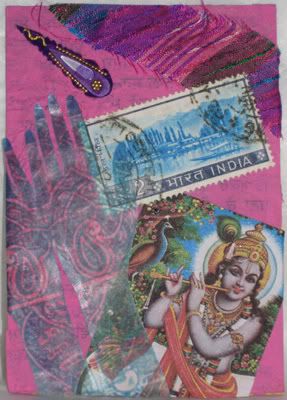 silicone transfer of a punjabi newspaper, and it wrinkled a bunch as i tried to dry the cardboard backing, so that adds texture. painted over it with pink, and glued it onto another piece of card. everything's the same as the chunky page, except that the henna hand is teal instead of pink!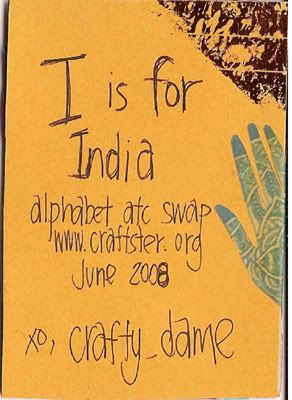 i wrapped the henna hand around the back, and added some gold foil.
I is for icon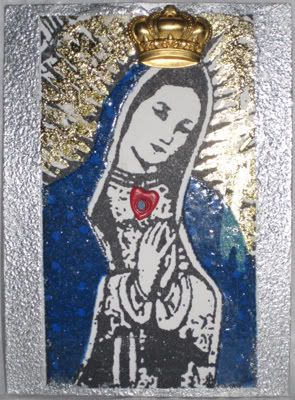 i'm so in love with this one. i saved all my templates so that i do this again.
rubber stamp from invokearts stamped with black stazOn, then a stencil was cut for the rays to glue them, and then foil was applied to the glue lines. another stencil was made for the gown, which was stamped with blue pigment ink and then embossed. the edges were all inked and them embossed with silver. i added the red heart grommet (stupid crop-o-dile big bite messed it up a bit), and glued on the gold crown.
and that's it! a lot of them were more involved than i'd thought they'd be, but it was to experiment with different ideas.
and then the other swap was a no paper allowed atc swap, that i was super excited to organize. i'd been thinking about it for a while, but hadn't had the time to organize it.
i was in 3 groups, so i had 6 partners, and i ended up sending everyone 2 cards, because the second one was easy and fun!
i did a set of 6 cards and sent one to each partner. (soon to be 7, because i'm going to make myself one too!) they're all solvent transfer (blending pen) scissors with stazOn ink lace, stitching, buttons and ruler on a frosted plastic base. the scissors are photocopies from craphound.
when held up to the light you can see through the atc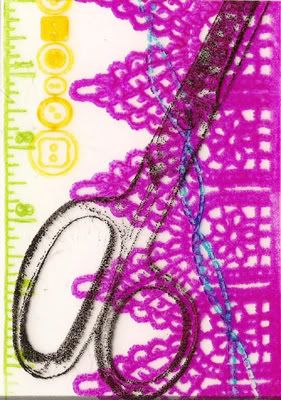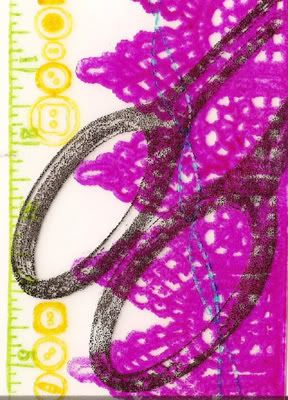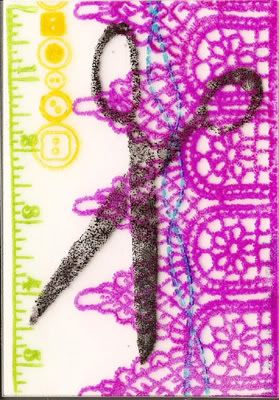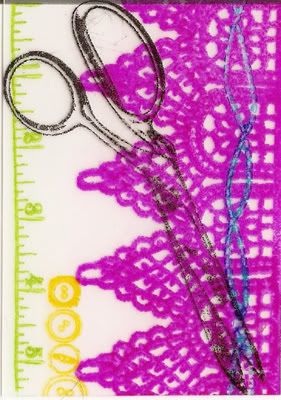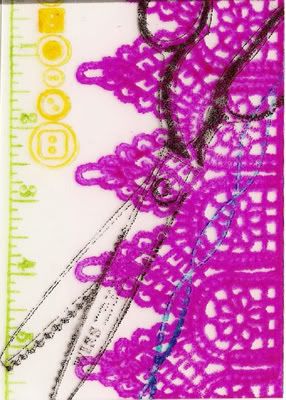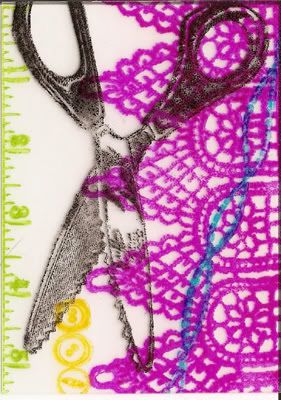 and then i did three sets of two similar cards.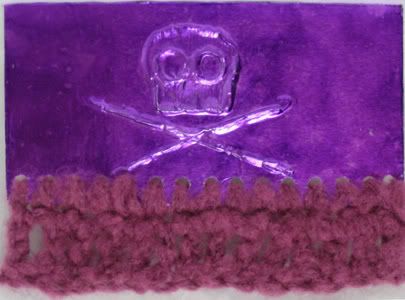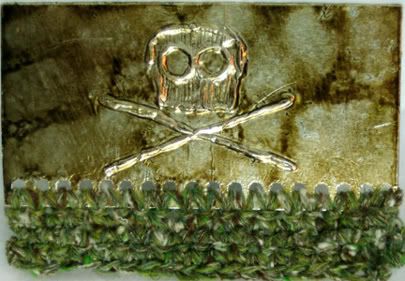 these two are metal flashing tape that's embossed with the craftster crochet skull symbol, attached to the same plastic backing as i used in the scissor atcs, then painted with adironback alcohol inks. after they were dry i punched holes in them with my crop-o-dile and crocheted into them.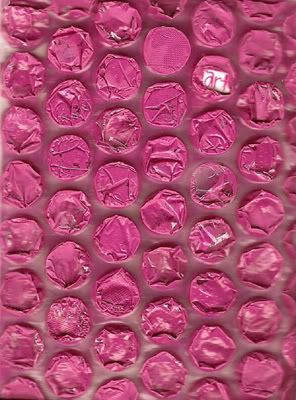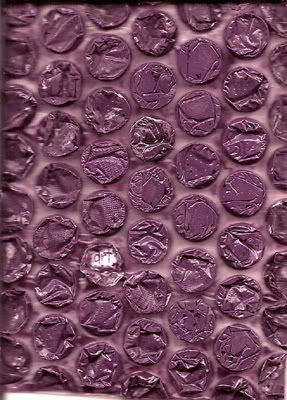 these two are bubble wrap with acrylic paint in each bubble. i cut holes in the bubbles from the back, and inserted the paint with a cat medicine thing that i found on sale at the pet store (i forget what it's called). one bubble on each has a little snippet that says "art" on it. once the paint was a dry as it was going to get, they were glued onto the plastic base with goop.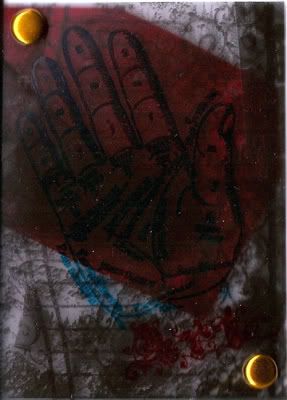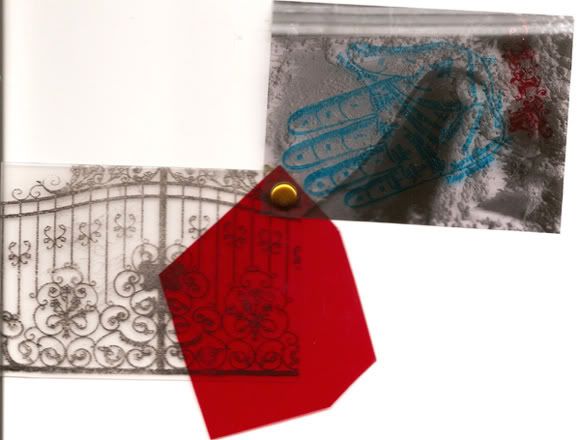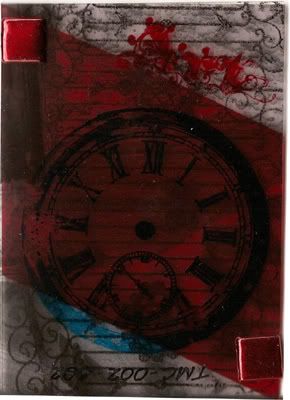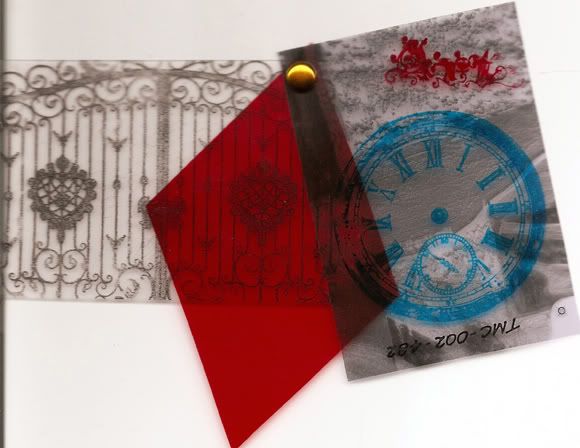 the back plastic is the solvent transfer again with a picture of a gate, then the red transparency, and then the front layer is actually a piece of a HUGE b&w negative, from an aerial photo. and again, stamped with stazOn, cause i'm obsessed!
i was really happy with how they turned out!