i took some TTV portraits today that turned out kinda neat, especially after i edited them a bit in photoshop to adjust the contrast (red polka dot dress? VERY cool in high contrast!!) however, i don't have permission to post them publicly, so i won't post them here unless they say i can. (hint! yes or no?)
in other news, my last chunky 4x4 page was received today!
this one was quite a departure for me as well, so bright!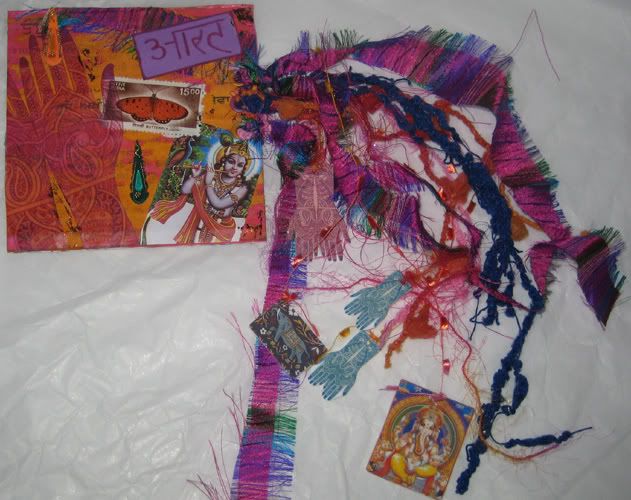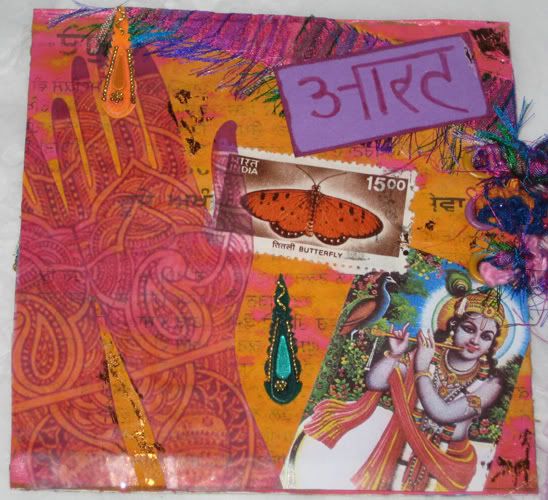 the background was painted pink, and then i did a medium transfer with a punjabi newspaper and rubbed off a bunch of it before overpainting with a watered down orange acrylic. the henna hands are an image from the dover sampler, but i made them pink in photoshop, and then did an image transfer (like a packing tape transfer, but with actual transfer material). the image, the postage stamp, the bindis, bits of gold foil and the scrap of sari/saree fabric are all pretty self explanatory! the writing says "art" in hindu. i went to my favourite independent fabric store, it's run by a family that's been in business for over 20 years, and asked them to write out the word "art" in punjabi and hindu. i used the hindu one since the background is a punjabi newspaper. i think the writing on the stamp is hindu as well, since that's the national language of India.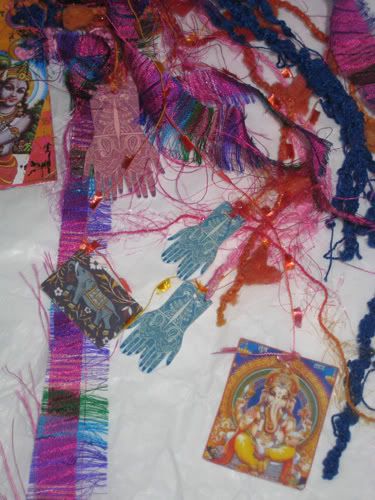 the fibers, with printable shrink art images of the henna hands, an elephant and ganesh. more saree/sari scraps, and lots of colourful fibers.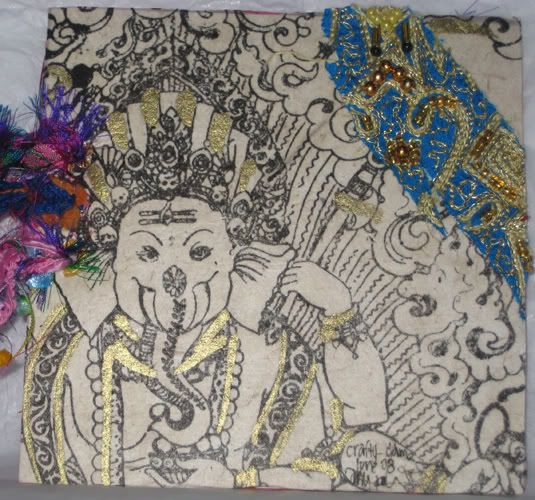 the back. i found this paper at ruby dogs on the last day, it's GORGEOUS! super delicate, with the image of ganesh and the gold foil. and i added a scrap from a salwar kameez with beading on it.
ganesha
is known as the "patron of arts and sciences", which makes him even more appropriate for the page.
it's kinda different, but i had fun with all the bright colours. i usually try to stay away from really specific cultures in artwork, because it makes me uncomfortable (ie, all the geisha images you see, japanese or chinese art, etc), but i hope this was respectful enough.