huraay!! my last altered ancestor piece FINALLY arrived, so i can post it here!
this was for the_trademarks, and her grandfather was a bookie for the mob, and loved to gamble, and had a tattoo from the korean war. her grandmother loved yellow roses, among other things. and they were catholic.
i worked on it off and on for a few weeks (so many layers to dry!), and the yellow was a big departure for me.
this was the first stage, so that you can see the silicone transfer.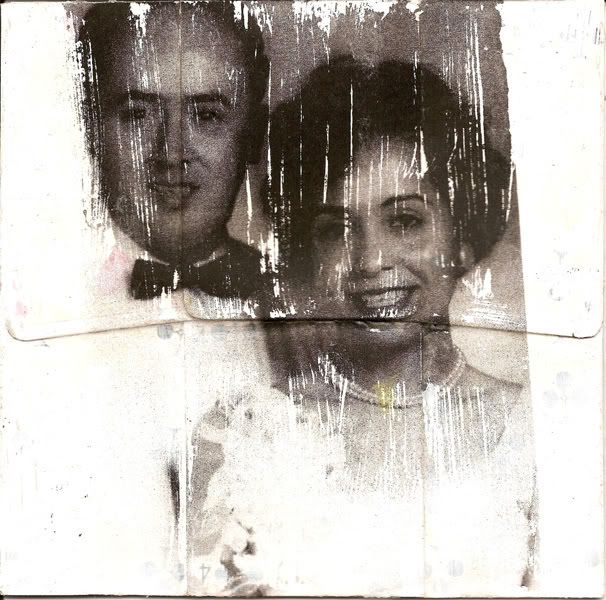 and the final result.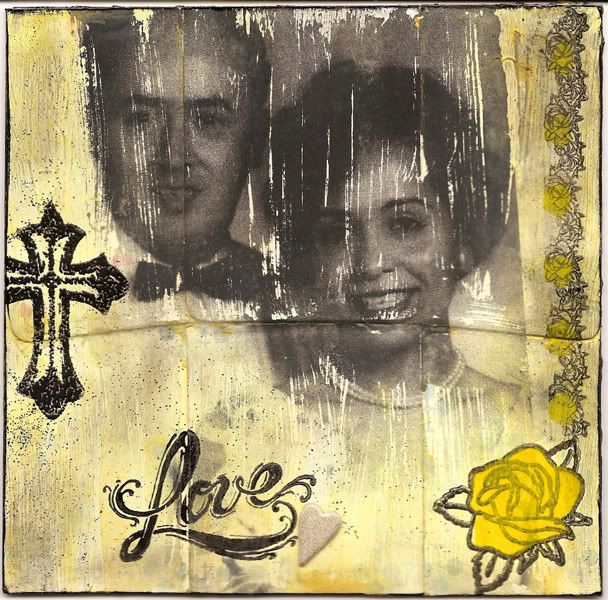 the background is 6 vintage playing cards glued onto mat board. the card on the upper left is a 2 of hearts, which i thought was cheesy and sweet, but it's barely visible. the cards were white washed, and then i used the silicone transfer technique to transfer the photo. the silicone wasn't quite dry, so some parts rubbed off, but i kinda like that. after that was all dry i washed over it again with light yellow paint. i decided to use tattoo style stamps because of her grandpa's tattoo, and i stamped the yellow roses for her grandmother and and the cross for their religion. those stamps are all embossed. i smudged the whole background with a bit of black, to blend the picture in better, and then sprinkled some black embossing powder to make the random black dots. the love stamp is staZon, because i wasn't going to emboss it, and my black pigment ink pad is too light (it's drying out). and the sparkly heart brad is actually a more yellowy cream than it scanned, so it matches better than that!
a few of the GHI atcs i made have been received, but i'll probably wait until they all are before i post them here.