here's a chunky page from back in march! it went to australia though, so it took a while to post!
kind of a hodgepodge... i'm not sure what language the background is, but it's something middle eastern... and then i found the stamp from pakistan, and decided they went together. i like the varying colours of the metal, and i did the foil transfer with double sided tape, which i'd never tried before.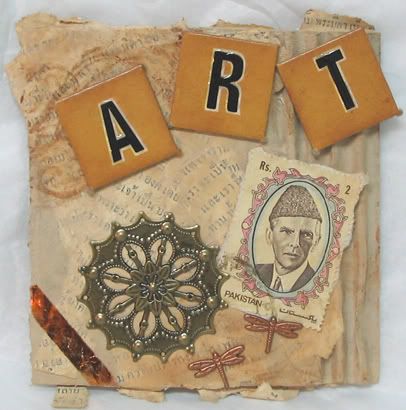 i like this random frame. it's not framing anything, but that's okay!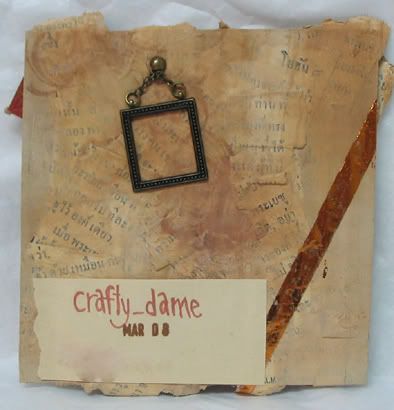 for someone who loves clocks and the imagery of time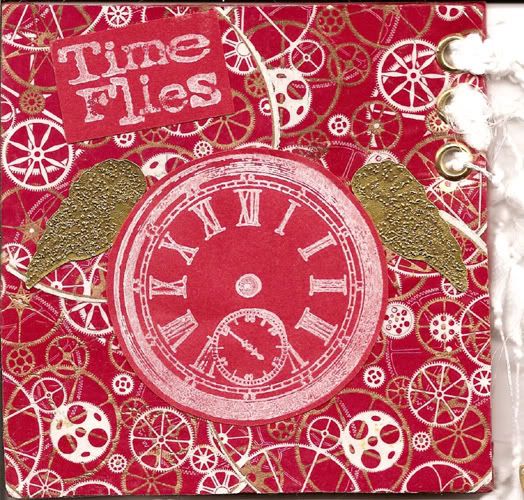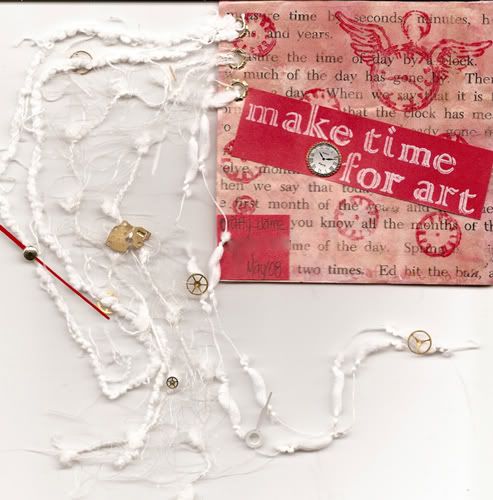 i was really stuck on this one, because the recipient had commented
on this page
i made, and like it, but said she wanted colour... i knew i was going to do the clocks, and i ended up having a ton of ideas, but i couldn't decide which one to use. once i remembered the playing cards i'd bought with the clock gears on them, it all came together!
i tried to do a packing tape transfer with the playing cards, but that failed! it did allow me to scrap off the majority of the card though, so the circles on the front are much thinner than they were originally. and then i tried desperately to make the little embossed gold wings move, but that failed too, and i eventually gave up. i did leave them unglued, so if she's displaying the page on the wall or something where it won't be flattened against other pages, she can bend the wing edges up a little bit.
the backside is paint and ink and clock stamps overlaid with a contact sheet transfer of the "time" entry in a children's dictionary. the little clock came from
alphastamps.com
- i ordered it for this page, and then forgot all about it until the last minute!
i hope the clock pieces stayed okay in the fibers - they were so tiny, and the fibers were too chunky to really tie them around them, so i glued them on with glossy accents.
and for someone who appreciates sacred hearts as much as i do!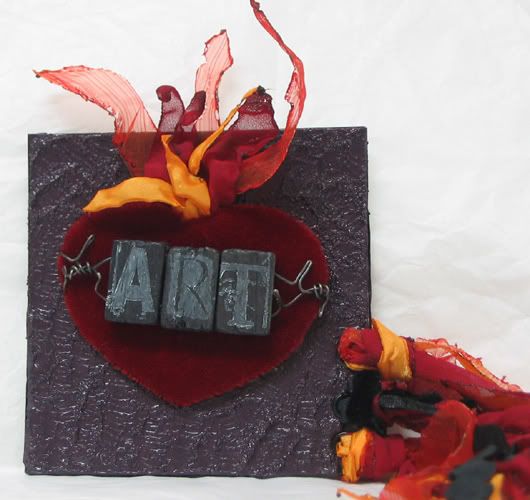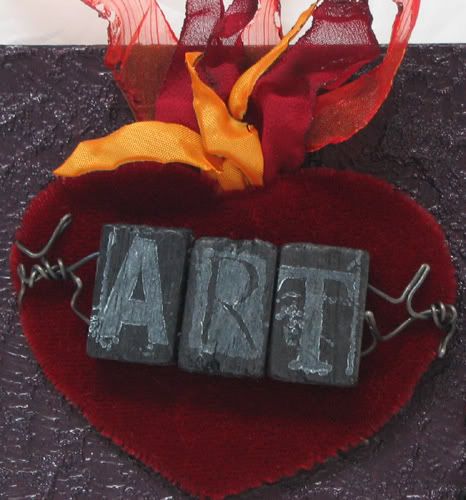 i'm SOOO in love with that heart! i finished it weeks before i got around to finishing the page, and it sat on my coffee table the whole time. everytime i saw it i had to pick it up and look at it! my family was getting soooo tired of me telling them how much i loved it!
i cut a heart shape out of cardboard, and then wrapped the red velvet around it, sewing across the back to stretch the velvet. the background is paint and this really cool
acrylic medium with eensy little glass balls
in it, very cool texture. i cut vague flames shapes out of chiffon and lining fabric and singed the edges, causing the fabric to curl into itself and become flame like, and then i tacked the flames onto the back of the heart. i glued the whole thing onto the backdrop with silicone sealant, since my dad has stolen and lost my goop AGAIN.
the word ART is stamped on the backs of asian game tiles of some sort, i liked the organic feel of them, and the fact that they're black. (duh!) i drilled holes in them to thread the wire through. i really love that wire too, it's got very subtle colour changes through it, but i didn't get to use enough for this piece for it to actually show.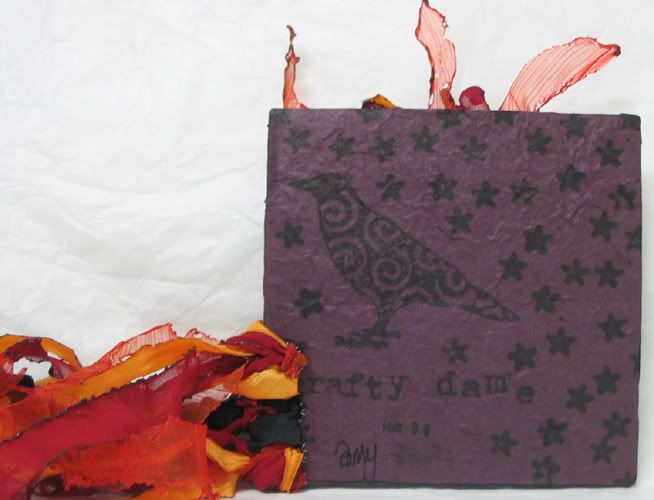 i cut long strips of the flame fabrics and burned them as well, they're the fibers hanging off the side of the page, along with some black velvet rickrack, but you can't see how long they are.
and i've also joined a new swap called altered ancestors. we all e-mailed out photos of our ancestors, along with little bios, and every two weeks we make up a new art piece for someone in the swap. it's really neat, i didn't truly appreciate how difficult it can be to make art using a specific person - you feel as though there's such a need to be accurate! sure, that stamp of the eiffel tower might look cool... but did that person ever leave north america? it's been really fun though, and i'm working in a 6"x6" format, which is a nice change from the 4x4 size of the chunky page swap.
these were the first two pieces i did.
this is the swapper's grandmother, mom and uncle. her grandmother married at 15, and was widowed at 17, when she was 5 months pregnant with the uncle. her husband was 30 when he died of TB. hence the word "strong".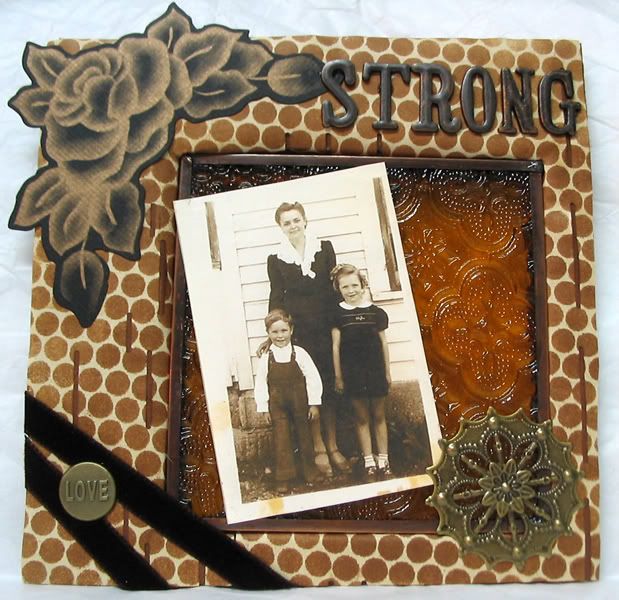 i've been DYING for a project to use one of these glass pieces in! they're exactly 4x4, so they don't work for chunky pages as easily - the edges are kinda sharp, so they need to be surrounded by something. i coated the sharp edges that aren't hidden with glossy accents, that shit works for everything! the base is super thick cardboard, painted dark brown, you can see it peering through the holes. the background is player piano paper, and i stamped it with punchinella and ink, using a make up sponge. that's partly why i'm so excited, i can NEVER get punchinella to work the way i want it to when i use paint, but ink works fabulous!
and the back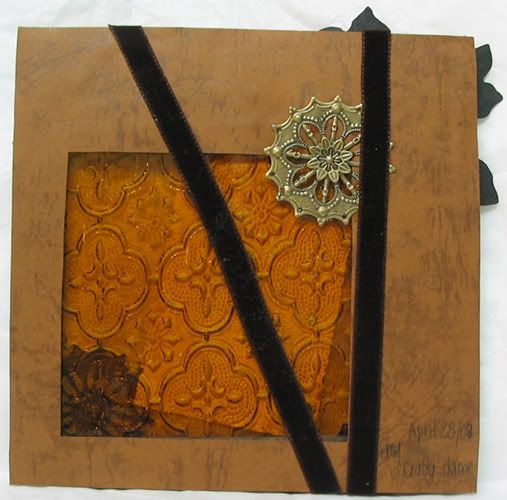 very simple. i don't even know if we're supposed to decorate the back or not, but i didn't want to leave it totally bare. the ribbon and the metal thing are positioned to help hold the glass in place. it's not actually glued, just held in by various pieces on the front and back. it's pretty secure.
and the second piece -
i was all worried that it wouldn't be as cool as the piece above, but i really like it. i LOVE the photo she sent me, it's of her great grandparents on their wedding day. they were polish immigrants, and the picture is about 90 years old. it has water damage on it, but i think that just adds to it!
i was in love with the bits of blue caused by the damage, so i went with a blue and brown page.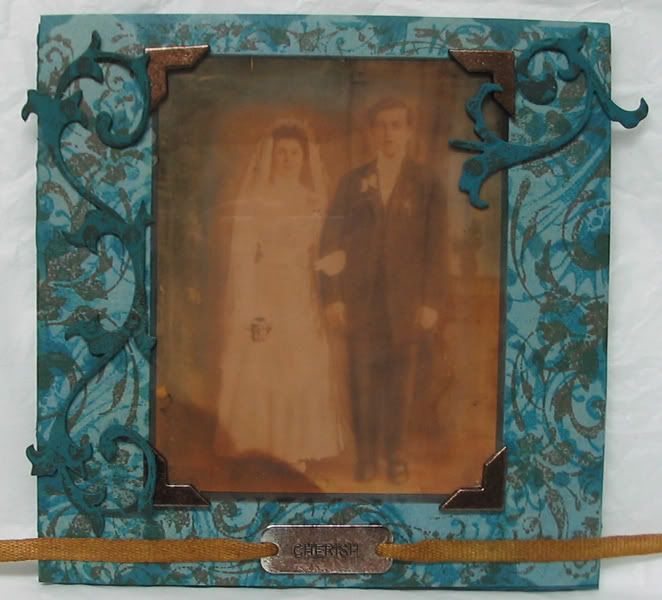 the background is a slightly mottled blue, then i stamped it with plastic lace and one of my nick bantok stamp pads. it didn't work as well as i wanted, so i added swirly stamps in another shade of the nick bantok inks, and one of the tim holtz ink pads (old photo, i think). the big swirls are grungeboard, in the polkadot pattern. i painted them the same shade as the edges of the base, matched to the backing paper, and then added ink (tim holtz old photo again). the photo is printed on transparency film, and there's a piece of cream cardstock behind it, and then an oval of white tracing paper between the people and the cardstock, because i didn't want them to be too yellow/creamy. the corners are pewter, stamped with staZon saddle brown, as is the charm at the bottom that says "cherish". the twill tape was stamped with staZon as well, the other shade of brown. i used glossy accents to glue the metal bits down, it works better than regular glue.
i'm working on my next two pieces tonight. i bought the book
"collage discover workshop"
by claudine hellmuth and i'm trying out some background techniques from it, but everything's taking FOREVER to dry!