it seems like the mail is taking FOREVER lately, and i'm so impatient to post things! silly mail.
i've been working on lots of stuff off and on, i have almost 30 vinyl wristlets cut out, appliqued, and ready to be assembled, but they keep getting set aside in favour of higher priority projects.
i made a bunch of ATCs in the past few weeks, and they've all been recieved, so i'll post them. i made two tip in pages, and two chunky 4x4 pages as well, but only one of them has recieved, the others are apparently touring the world via the postal system!
and i also made a few custom orders, which again, are still in transit.
but! i do have atcs to share!
these were for the alphabet atc a,b,c swap i organized on craftster.org (it's just winding up now, and d,e,f will be organized next)
a is for aerial acrobatics, arabic and apple green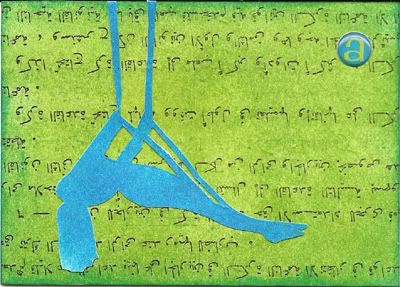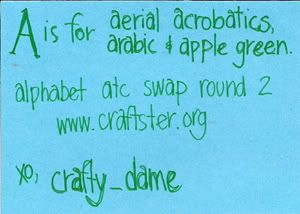 b is for burlesque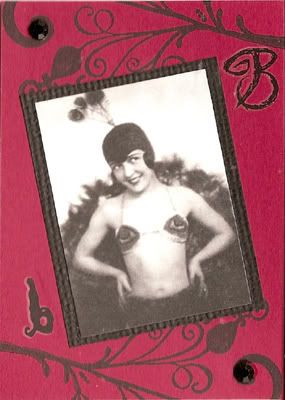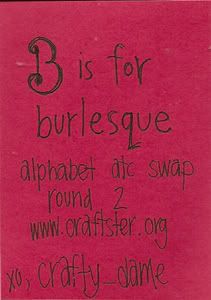 c is for clocks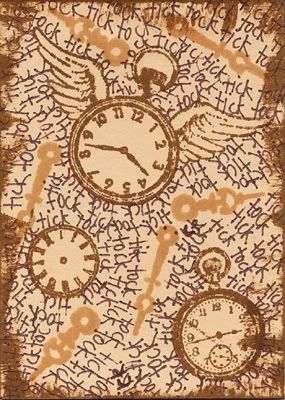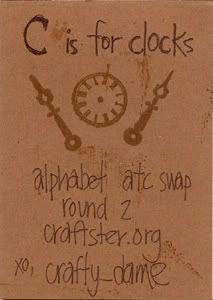 they're all quite different, but i really love how they all turned out.
and a chunky page!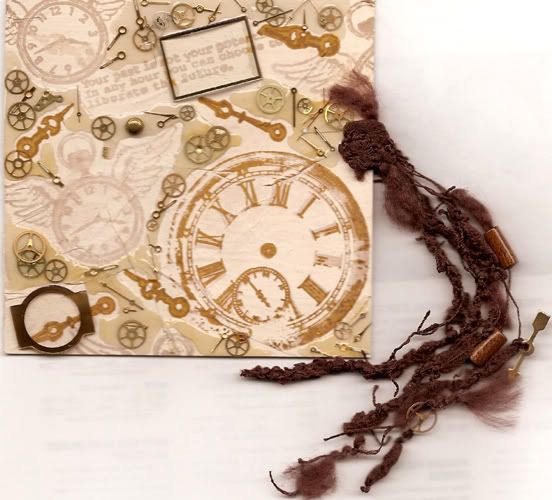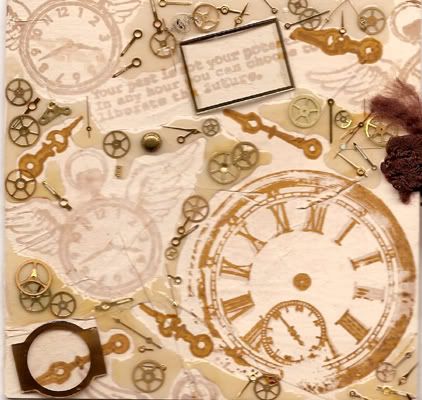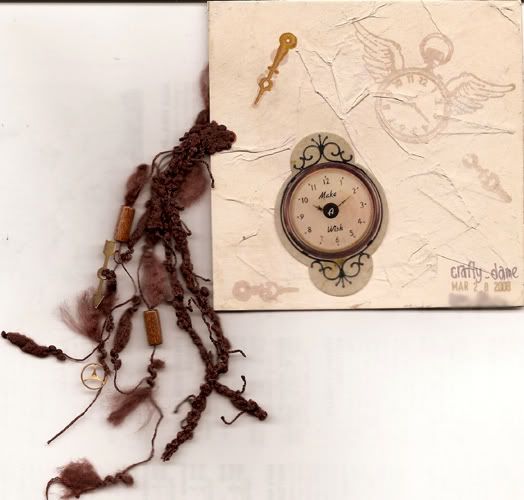 the quote says "Your past is not your potential. In any hour you can choose to liberate the future." I stamped it with a water based ink pad (the tim holtz ones from ranger), and it really didn't react well to the acrylic paint and medium mixture that i used to give the page texture before stamping, and everything i stamped lightened quite a bit. i overstamped a few of the images with my staZon ink (the lighter brown - is it saddle?). the little glass things are from watches as well, they curve up from the page. the watch pieces are adhered with glossy accents, which is usually clear, but on this page i very lightly brushed it with water based ink before doing anything, and you can see (especially on the lower left) where the glossy accents picked up some of that colour. the stamps are from an unmounted rubber sheet i bought in portland last month, it's the "time flies" set 8513 made by
invoke arts
. they were really cheap actually!
DO NOT go to that website if you're on a budget!! i'm practically drooling right now, their stamps are INCREDIBLE! a whole page of religious stamps! frida stamps! dios de los muertes stamps! lace patterned stamps! very cool atc background stamps! very cool crow stamps! i definitely need to save up and order some, i don't think i can resist!
and more atcs! these were for the fabric atc swap i organized (again, still finishing up, stupid mail system!). i ended up in two groups, so i made 6. i was on a vinyl kick, so they're all out of vinyl.
a stylized peacock feather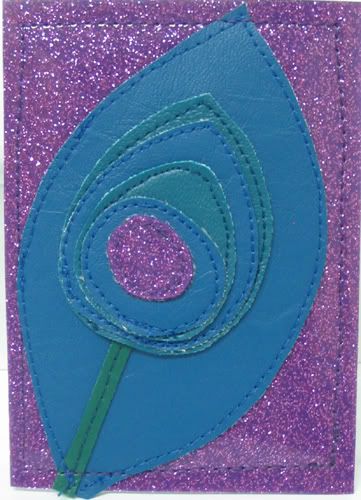 a russian nesting doll (the designs and the face were stamped on)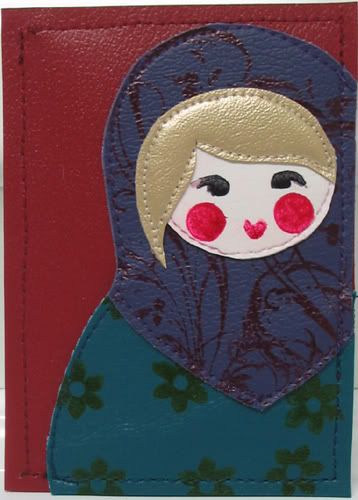 a kitschy toaster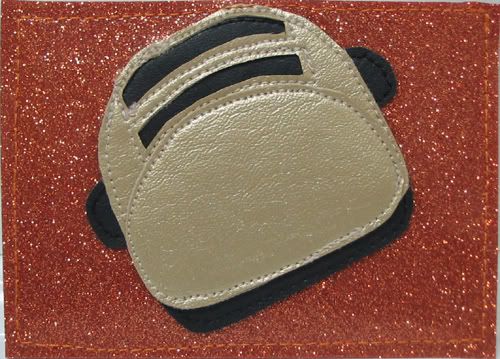 kitschy kewpie dolls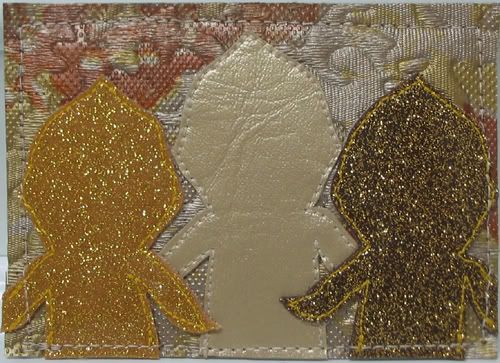 the framed crow (again, the frame was stamped on)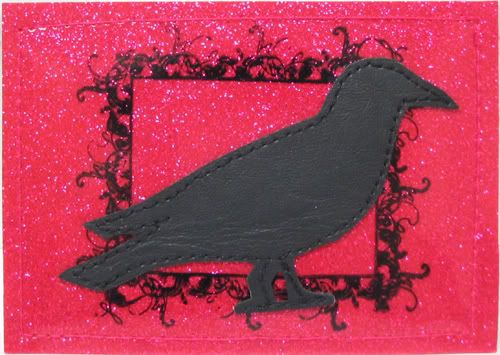 and the anchor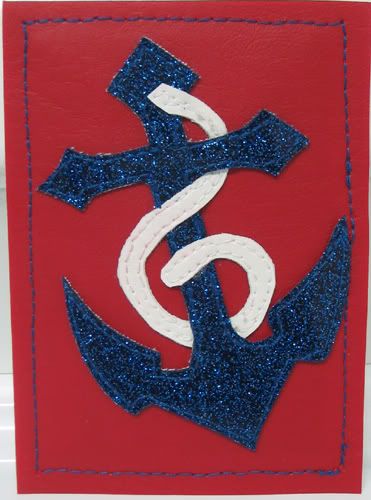 as you can see, i've started using glitter vinyl. i LOVE this stuff! i picked up a ton of it in portland when i was down last month, and it's fabulous! it took a bit of experimenting, as my machine wasn't sure of it at first, but after learning that i must adjust both the tension and the stitch length, as well using the walking foot instead of my teflon foot, i'm getting the hang of it!