i'm on a bit of an embroidery kick at the moment - partly because i've felt so horrible that it's pretty much all i can do! i joined a 55+ yoga class (i had to get special permission to join the senior class, since i'm about 30 years too young!), and the first class seriously kicked my fibro butt! i anticipate much more embroidery until my body can get more comfy with my weekly classes!
luckily, a few weeks ago i caved to temptation and ordered the new sublime stitching
craft pad
. i already have the sublime stitching book, and while the craft pad has lesspatterns, it has way more patterns i'll actually use, they're so much funkier. i'm so excited to embroider stuff out of it. and while i was at it, i ordered more patterns
(they were on sale, okay? and i don't feel as bad about paying shipping costs when i'm buying more stuff!)
i ordered
forest friends
, the
tattoo alphabet
,
lisa petrucci
and
julie west
. while i don't think the julie west patterns are usually my style, i ADORE them! i can't wait to use them, they're just so damn cute!
they arrived in good timing, because i was just finishing up a set of embroidered baby bibs that i started back in december. though i'd already started stitching the "born bad" baby from the
mitch o'connell
transfer set, i immediately ripped it out and used a design from the craft pad instead! i just wasn't feeling the baby - i couldn't decide on colours, and i was feeling lazy, i just wanted the set to be finished. and finished it is!!
here they are, all 5 of them.
they've been my sitting-in-front-of-the-tv, I-feel-too-crappy-to-sew project, so they've taken a while.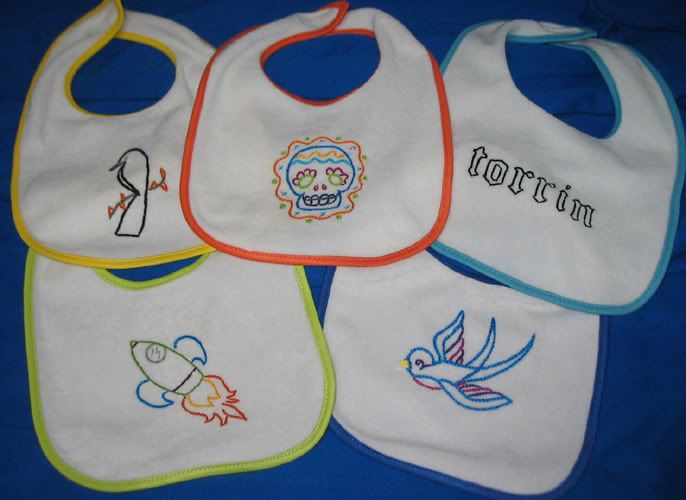 The
bibs themselves came from ikea
, and they seem to be decent quality. They're not perfectly shaped which slightly irritates my OCD tendencies, that's okay, it's really only obvious when they're ironed, and I doubt they'll ever be ironed again! And they were a great deal, so it's all good!
The crow/raven/black bird – this image is from the
Gothic Grandeur
transfer set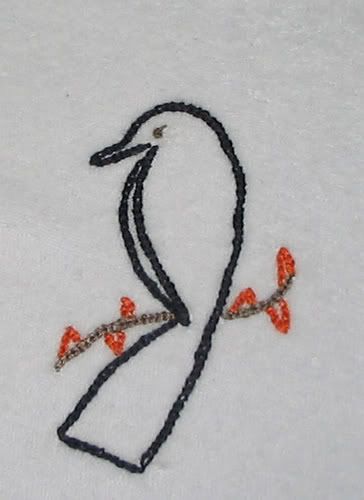 The baby's mom is pretty goth, and not really into traditional baby stuff, so I wanted to have at least one gothier bib (as gothy as you can get with yellow bias tape at least!)
The swallow – I think this image is from the
Tattoo Your Towels
set, but I honestly don't remember!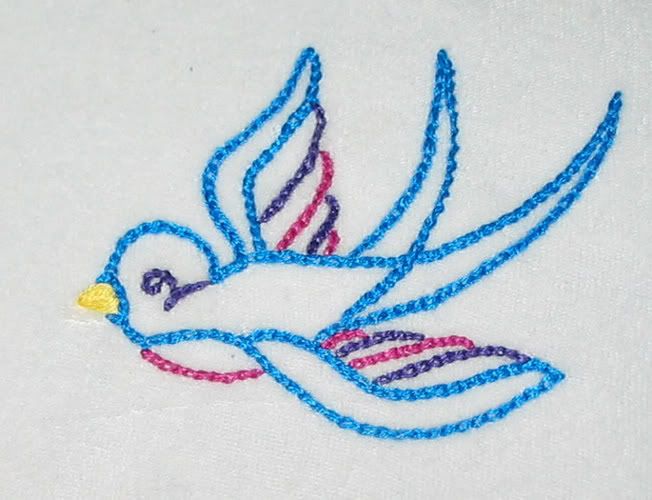 This was the first one I did, and you can tell. People keep saying that the longer you embroider, the faster you are, but I seem to be the opposite! The more I embroider, the more anal I get about embroidering, and I get slower! Since this was the first one, the stitches are bigger.
The sugar skull – this image is from the
Dia De los Muertes
transfer set
I LOVE how this turned out! It's so bright and cheery!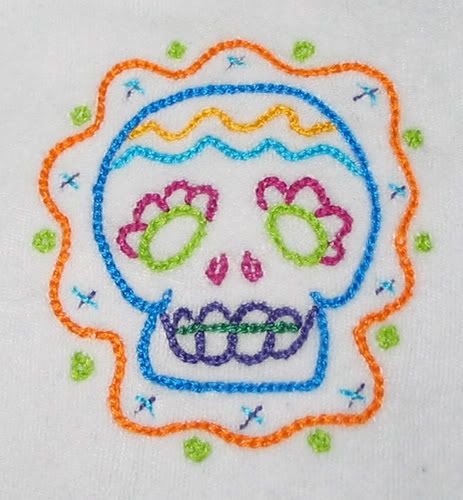 this is the only one that isn't a sublime stitching pattern. the baby's name is Torrin, and I printed it up in word in Old English Text font.

and the rocket, from the new craft pad. this one i finished up on wednesday. i LOVE it! it's so cheery and bright just damn cute!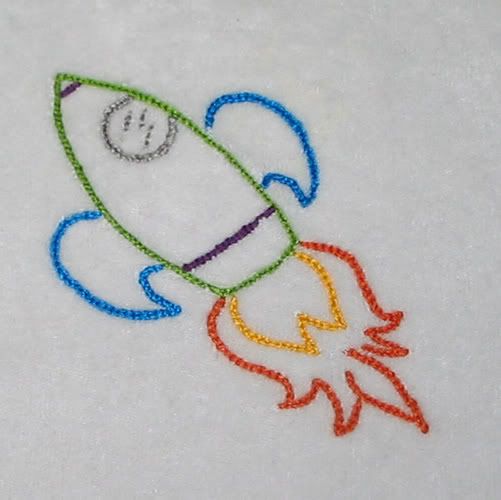 All of the bibs were made using tearaway stabilizer (best shit ever!) the images were transferred onto the stabilizer, or in some cases, just traced right onto the stabilizer. It worked really well, and I didn't have to worry about transferring the designs onto the stretch terry of the bib.
And while i'm posting pics, i'll post this as well, because i don't think i ever did.
i embroidered this back in the fall for
casey
, but never got around to posting it. it's embroidered on a fleece scarf (again using tearaway stabilizer), and the image is an outline of the
fabulous kitty stuffies
she makes!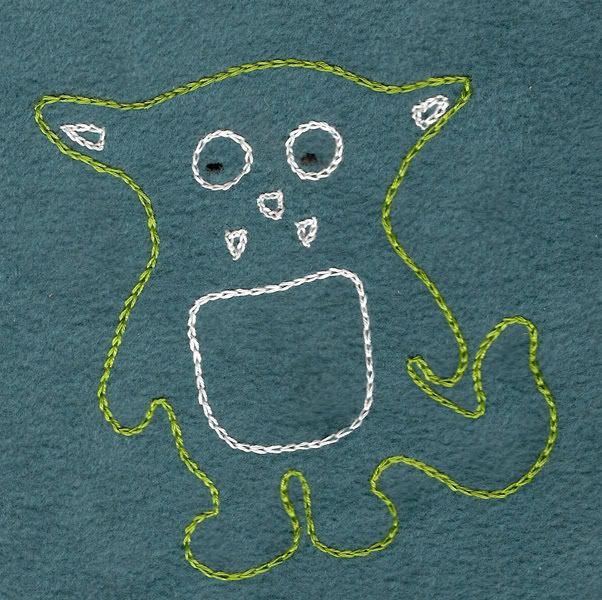 and a photo, with more accurate colours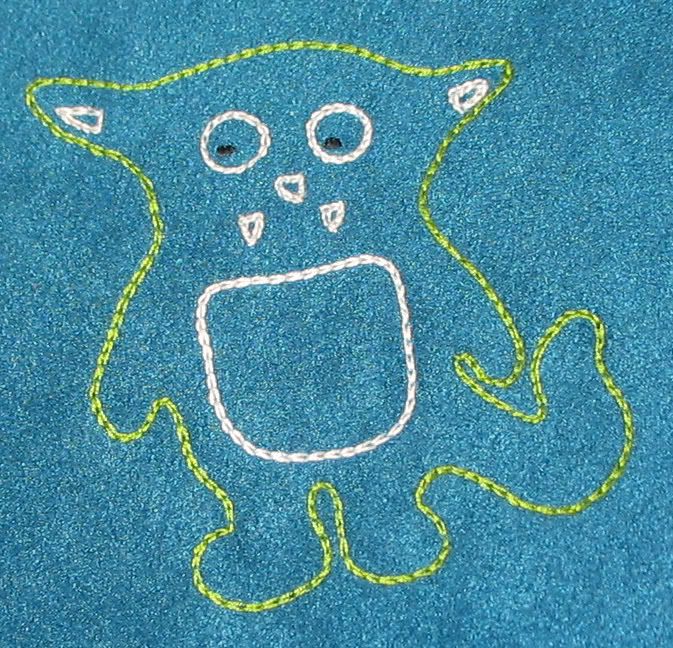 the scan, with more detail
i'm ridiculously anal about my embroidery - my stitches are super tiny and neat. it's wierd, because i have HATED hand sewing for years! but i'm really enjoying embroidery. it's very calming, and relazing, and i love the end result. i'm very proud of myself!