on sunday i went to a party! it was a "point 5" party for my best friend's baby, and for the other 6 month old babies that he's "friends" with. there were lots of babies and kids there! because she was in school pretty much right up until he was born, there wasn't time to have a baby shower. sunday's party was kind of to make up for
that fact. i'm sad that i didn't get to do all the super cool shower stuff that i had planned, but i just wasn't up to it right now. stupid fibro!
first, the guest of honour! he's getting SO BIG!!! aww!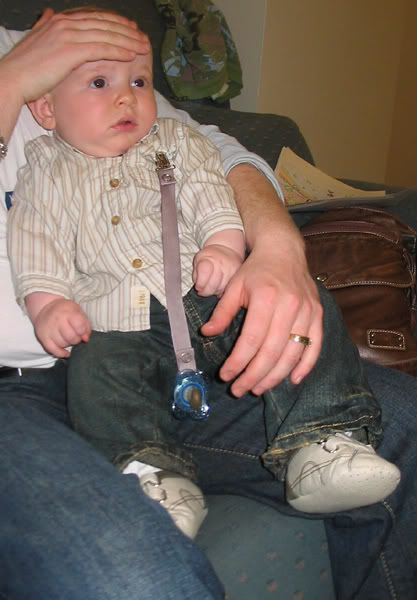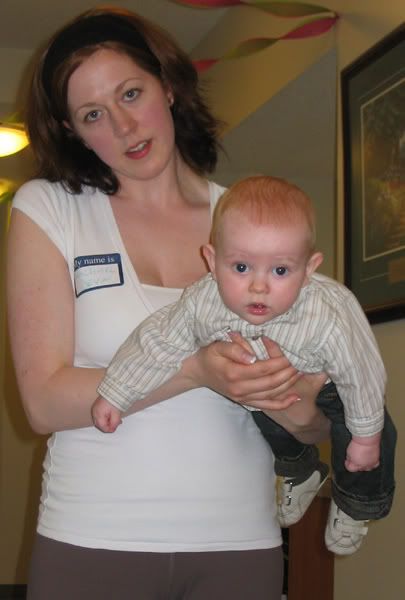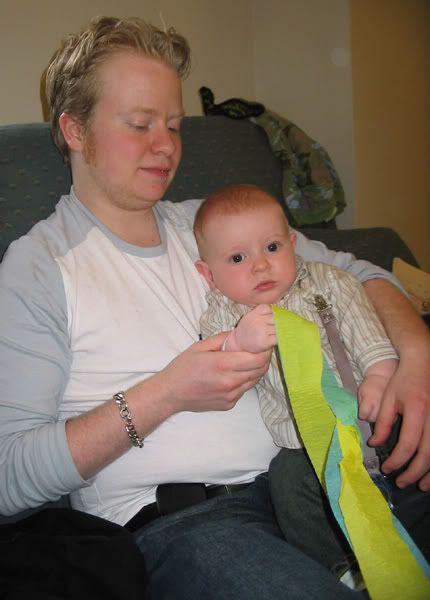 he liked the streamers when we were taking them down!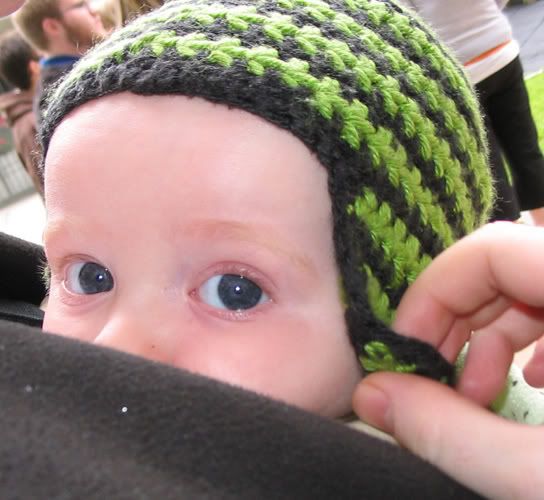 wearing
his favourite hat
!!
we had it at the amenities room in my friend's building, which was really nice. it's a big room with a kitchen and a bathroom in it, so the actual "party" area was L-shaped, which was perfect for a kinda quieter area for babies sleeping, changing diapers, etc, and it opened out into the giant courtyard that had two playground structures in it, so it was great for the outside activities and the kids. we were going to do it outside in the park across the street, but it was raining off and on and was wet and cold, and then it turned out they were filming a movie there today anyway, so it was actually good that we'd decided to move it inside!
we had a TON of food, so many people brought food. i made cupcakes, vanilla and chocolate, and bought humus and a veggie platter at costco that morning. d made rice crispie cake and bought a bunch of chips and cut up fruit and stuff. and we made punch, in a plastic halloween candy bowl with spiders along the sides!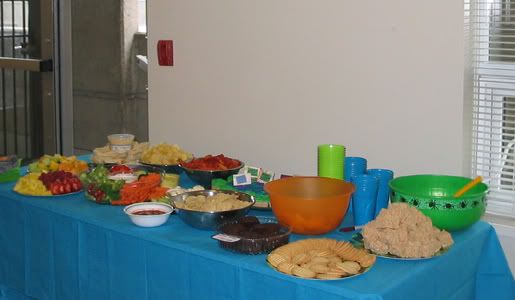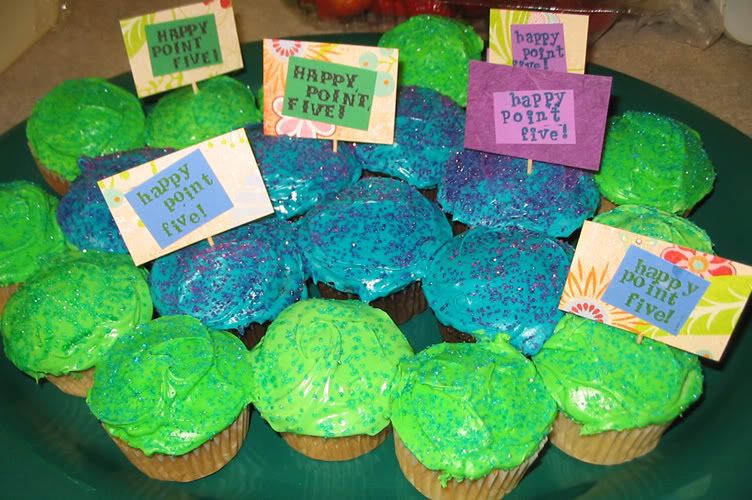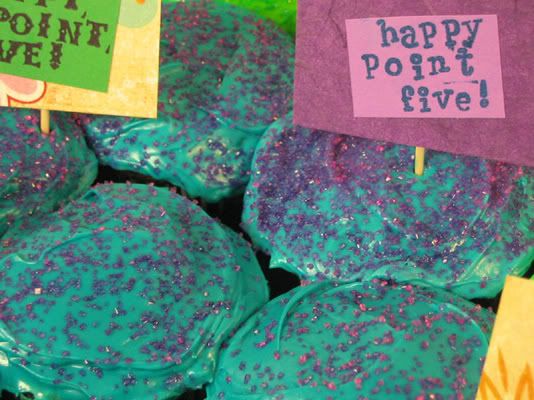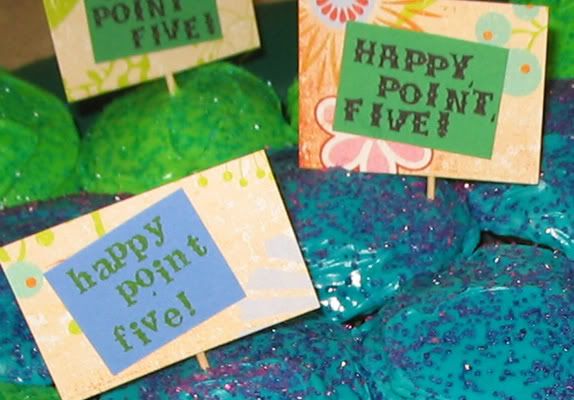 (i'm SO peeved that my icing melted overnight! these are the best looking cupcakes, i left the ones where the icing slid off entirely to eat towards the end! i like my little flags i made though. and i LOVE the colours of the icing, that turned out well.)
i don't actually know how many people came.... i was going going going ALL DAY, and i never stopped to count! i'd say there was at least 20 people at any given time, though some people came late and some left early. there were about 4 babies, and 4 or 5 little kids, and then a whole bunch of 20somethings. and the dad's parent's came, which was awesome.
the mom wanted it to be more of a "family" party, so we planned fun kid activities. she made play dough with my mom's recipe, we had a colouring table, i made bean bags and d made a bean bag "toss" out of a cardboard box, i made up bubble solution and bubble wands, a pinata and an awesome performer. i brought my face paints too, but never had a chance to pull them out.
the play dough was a huge hit, though mostly with the grown ups!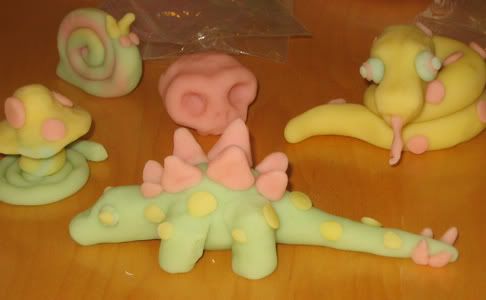 the colouring was the same, again, mostly grown ups! i was so glad i'd grabbed a colouring book at the dollar store when i ran in to get name tags that morning, because people loved it.
the bubbles were a failure, because it was too windy - the wind broke them before we could blow them! it was damn cold outside too! but maybe another time.
the toddlers LOVED the bean bag toss, it was being used all afternoon, so that was awesome. i made the bean bags the night before out of cheap fabric and filled them with plastic beads, because i had a bunch and didn't want to buy some other kind of filling.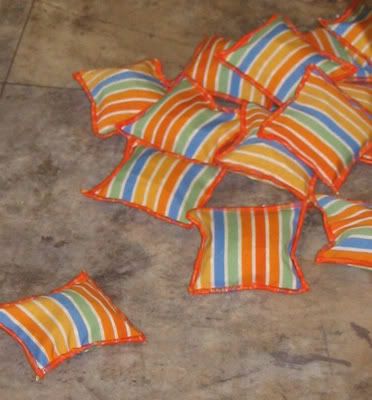 we didn't do a whole lot with decorating, but that was okay. since it was a point 5 party, we didn't do the gothy shower like we planned, just a few gothy touches. we just did streamers, the banner and coloured tablecloths.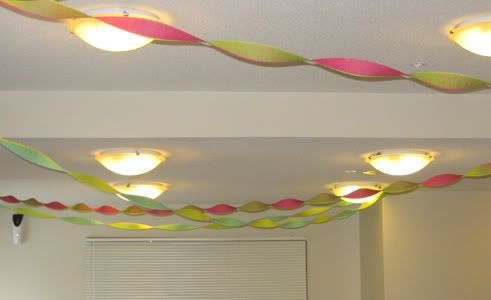 i bought all the letters to make the banner. i got all the way home from the party supply place, and my I wasn't in the bag! so i made another one out of black cardstock... it wasn't shiny like the others, but it wasn't too noticeable.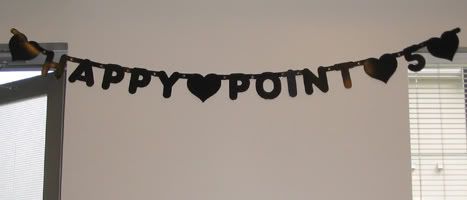 it was a really really good day. exhausting though!! that was the first time i'd been into the city in months!
the only "shower" thing we really did was my "lessons to learn" book, and it turned out really nice. people really liked the idea, and lots of them filled out pages. i was running too late that morning to take pics of it, and it was still drying the night before, so i took one action shot, and then the rest of the pics were taken yesterday when d and torrin came to visit me.
action shot!!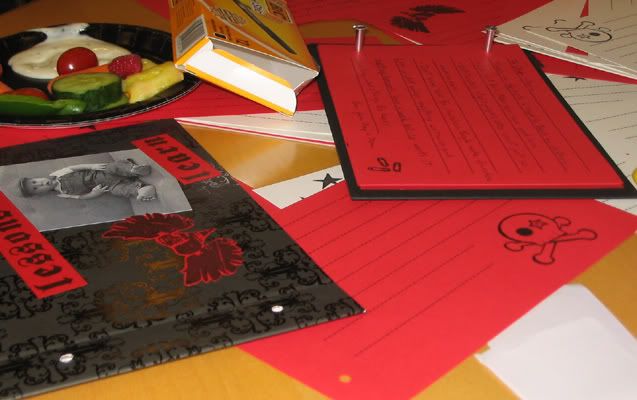 front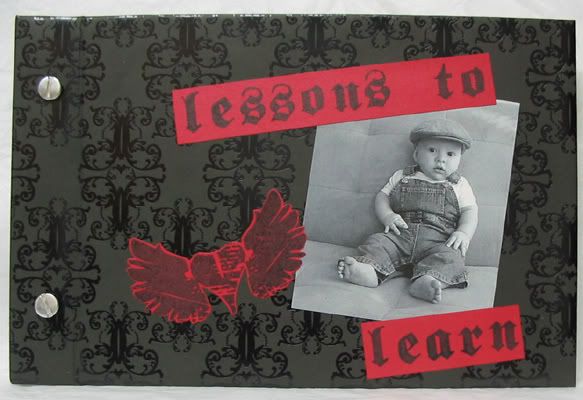 the cover. the base is matboard, i made it in two separate pieces, with a strip of fabric joining them, so that it would bend back nicely, then covered it with the cool paper. the picture is one his mom took, the writing is stamps from martha stewart last halloween, and the heart is is a rhona farrel stamp, i believe.
the back.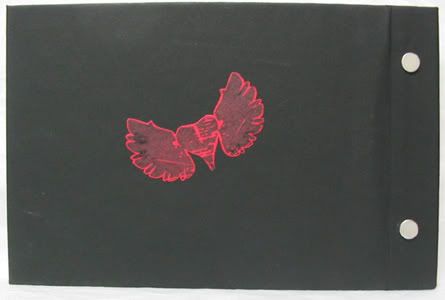 fairly plain, just black cardstock covering a base the same as the front. the book is held together with book screws, so that pages can be removed and replaced.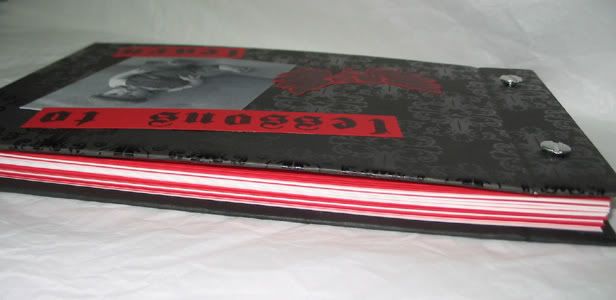 the pages were a mix of red and white cardstock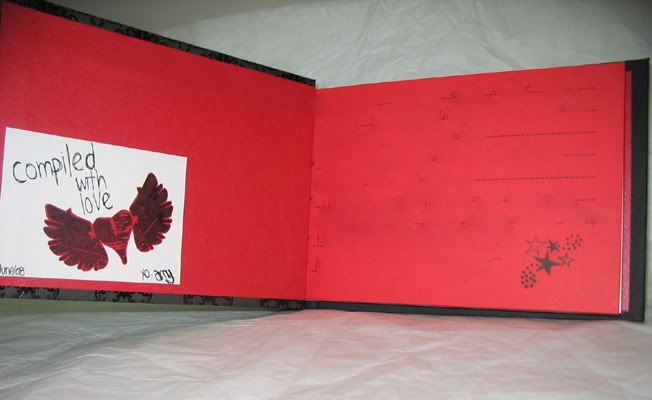 inside the front cover.
some of the pages. i blurred out most of the writing, the only ones i didn't were my moms and mine, because i have permission to post them! i printed up a template in word using dashed lines and a fairly large font size to allow for two pages per sheet of paper. after i'd printed them out, i cut them in half, hole punched them all, and then stamped them all with black staZon ink.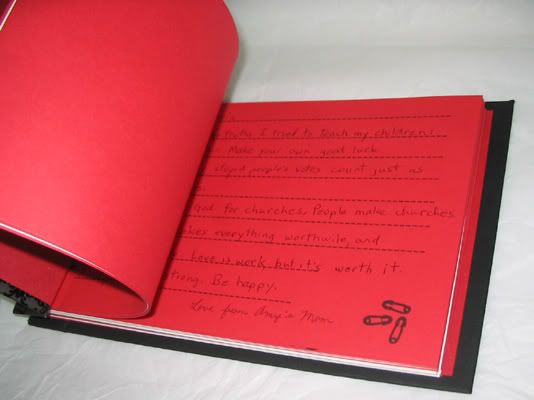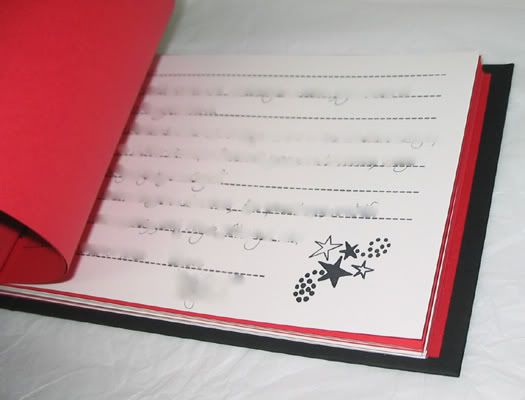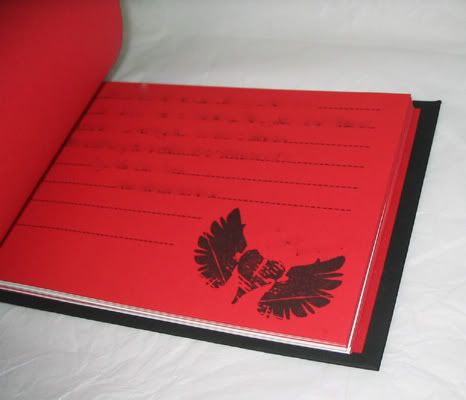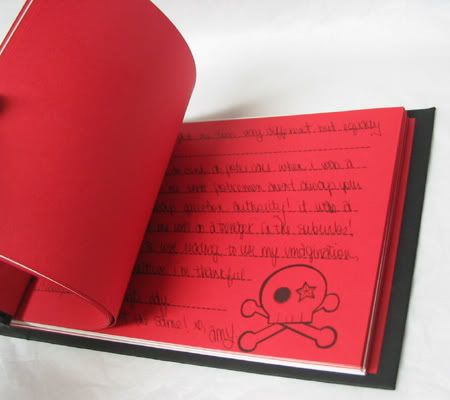 i was SOOOOO happy with it! it turned out awesome, and the mom and dad really loved it.