hopefully i remember everything....
fabric halloween atcs and postcards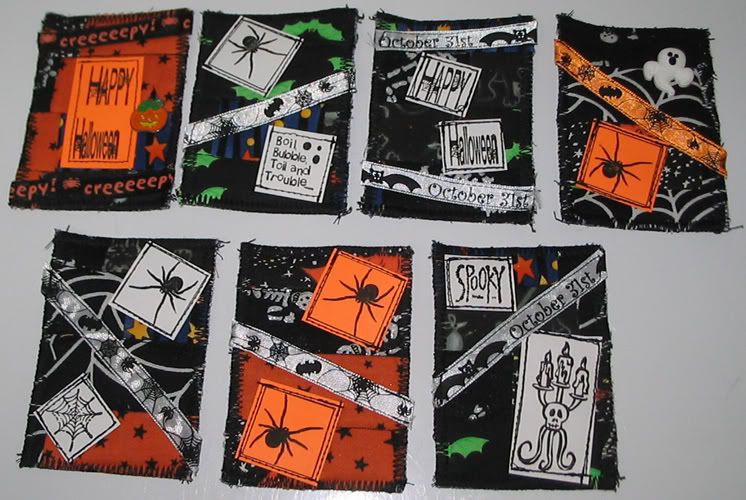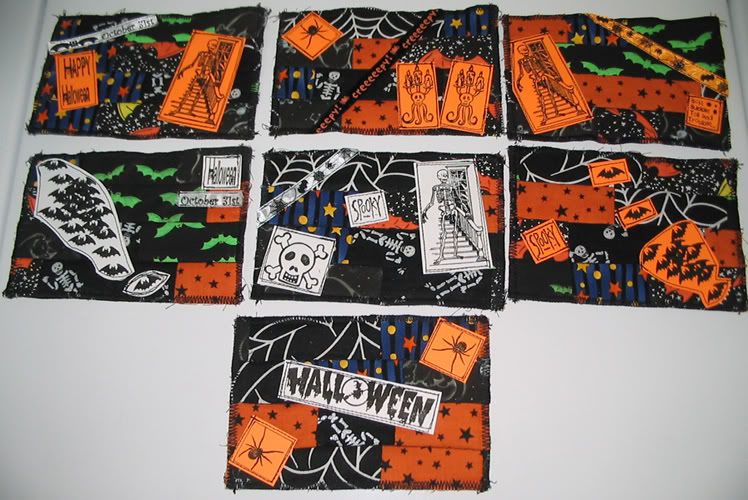 bigger pics, though keep in mind that the colours are as shown in the group photos, i don't know why my scanner hates orange so much!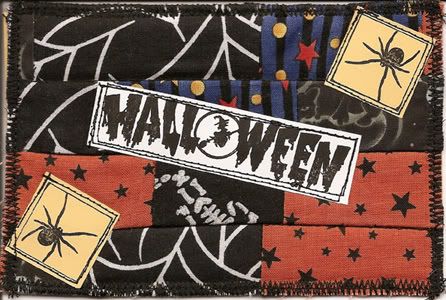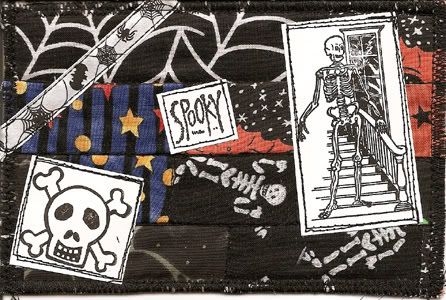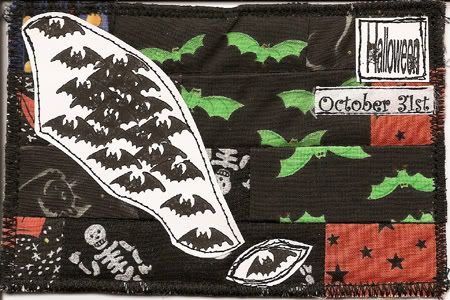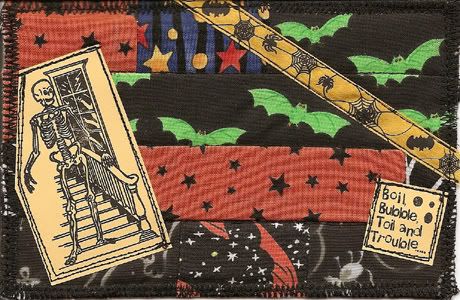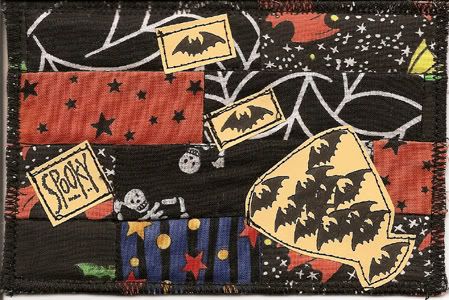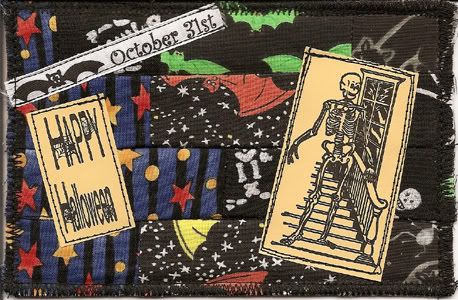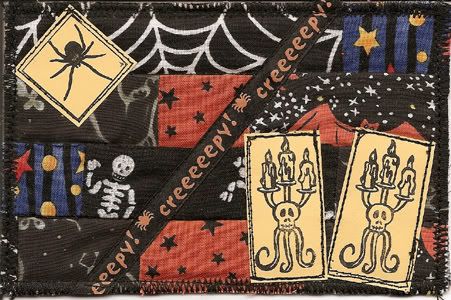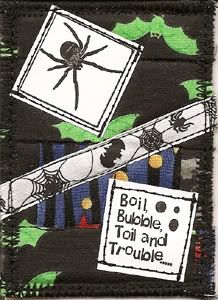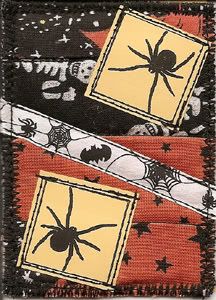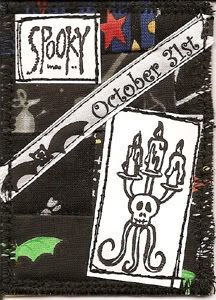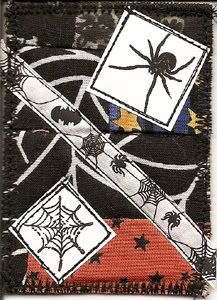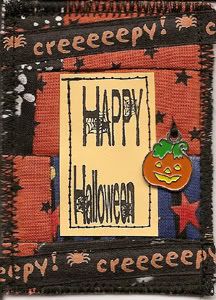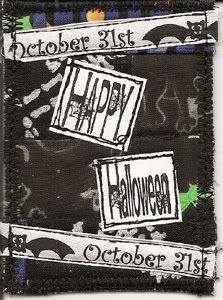 they were all made using
this
tutorial.
they're halloween fabrics that i pieced together and then quilted (they all have a layer of batting and black backing fabric). i zigzagged all the edges, then i used black pigment ink to stamp a bunch of my halloween stamps onto cardstock. after they dried, i cut them out and sewed them onto the mini-quilts. and i added halloween ribbon to most of them, and a few halloween charms to the ones that felt kinda empty.
and i made a few paper based halloween atcs as well, since i didn't have enough of the fabric ones for the swap i was in.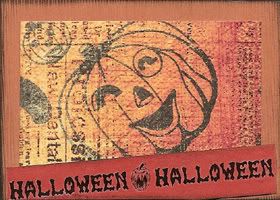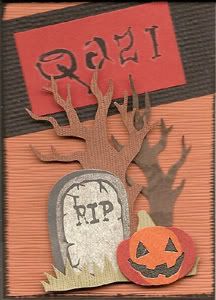 crocheted baby goodies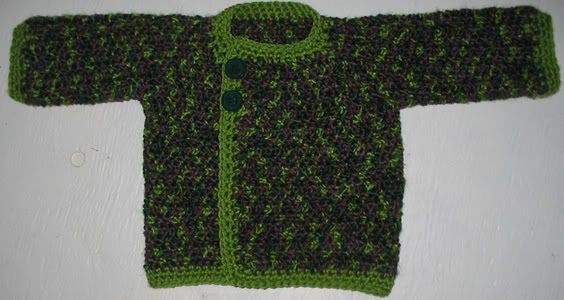 the pattern is "baby it's cold outside" from
crochetme
, but i changed it up a bit, because i'm apparently incapable of following a pattern completely.
the yarn is "sean sheep darwin" that i bought at walmart, they just started carrying it in stores here, and the 275m ball was $6 or something like that. i still have a TON left. i picked it cause it was kinda chunky, and because i thought the colours were fun, in a non-gendered-colour kinda way! (and cause i'm broke, so the price was good)
i used a 5.5mm(I) hook, and i'm still not sure why. the pattern calls for a 6.5mm(K) hook and the yarn calls for 7mm knitting needles (which doesn't exist in crochet hooks). it worked well actually, the 6.5 might have been a bit loose, but i'm still confused as to why i picked up that hook in the first place!
i fudged the pattern a bit. once i'd finished the basic portion, everyone told me that it looked too short. that's entirely possible, since i neglected to check the gauge at any point....
so i added 4 more rows to the front and back. the front ones were easy, just adding on, but for the back i had to crochet a strip and whipstitch it on. luckily, the varigated yarn covered it nicely!
the contrast trim is red heart soft touch, which i chose entirely due to the colour match. the trim seemed to take forever - i had it completely done, ends hidden and everything, and i decided to rip it out and start over. the first time i did it, i did the single crochet too close together, and it buckled the fabric of the body, so when i redid it, i spaced them much bigger. that meant i didn't follow the instructions for the button holes exactly - i only skipped one stitch, and crocheted a chain of two, instead of skipping two stitches and crocheting a chain of three. i also did two single crochet between the buttons instead of one, and i did three rows around, because i wanted the buttons to show up better and to add more of the lime green. oh, and i did the trim all at once, instead of doing the front and neck seperate from the bottom.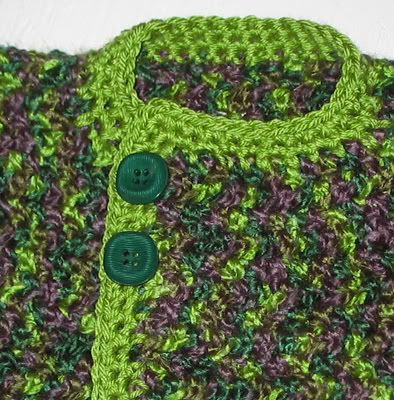 the buttons aren't sewn on yet, so maybe i shouldn't actually call it completed, but i was just so happy, i couldn't wait to take pictures of it!
you may have also noticed that the sweater is a mirror image of the pattern sample. that my friends, is why you shouldn't do the seaming while carrying on a passionate phone rant with the mother-to-be. i sewed it together wrong sides together! oops! luckily, the difference between the right and wrong side is pretty much nonexistant, it just meant that the overlap is on the other side.
all in all, i'm pretty damn happy with it!
i also made a matching hat, using a pattern from crochet today that showed an example done in a blegh pastely minty green and white, in that truly nasty terry yarn that you just KNOW is going to look like crap within a month. luckily, i looked beyond the blandness!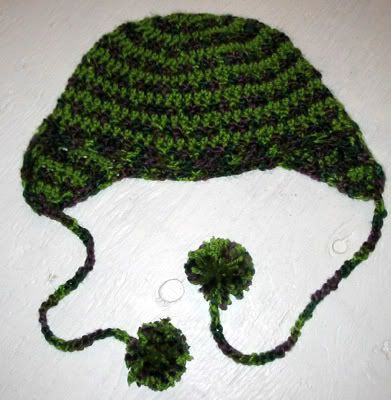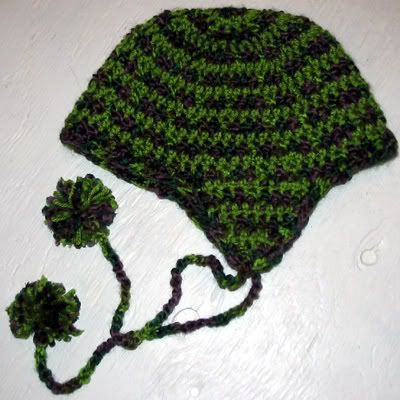 and then i also made baby "chucks", using this
pattern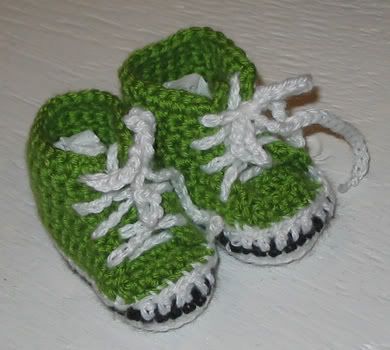 i fell in love with the lime green i used on the sweater, so i used it for the sneakers as well.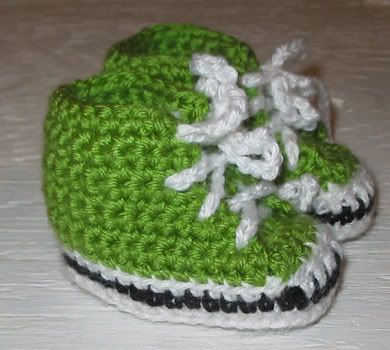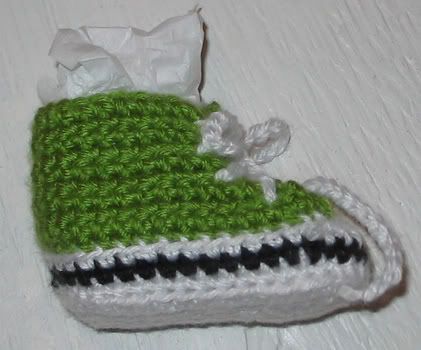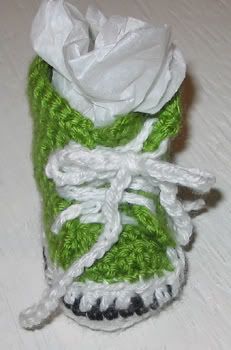 i modified the pattern quite a bit, because everyone kept telling me that the soles were too narrow, and babies usually have chubby little feet. once i had the base a better shape, i followed the instructions for the top, though i think i'll change them up a bit next time - add a bit more white to the upper toe, and make the tongue longer - it was way too short in my opinion!
(and i left the circle off the side because neither the mom-to-be nor i are big fans of the politics of nike, as much as we love the look of cons, and i figured they already looked recognizable enough, it didn't need any further advertising!)
and then i still had some yarn, and i was amazed at how quickly the first hat had whipped up, so i made another! this one ended up smaller, but that's okay, it's still super cute! and he'll need a small hat at first anyway.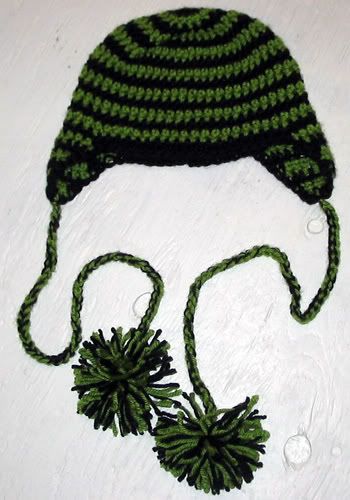 and i also sewed him a striped baby onesie and matching hat (which turned out MUCH bigger than the onesie! syupid one-size-fits-all hat pattern!)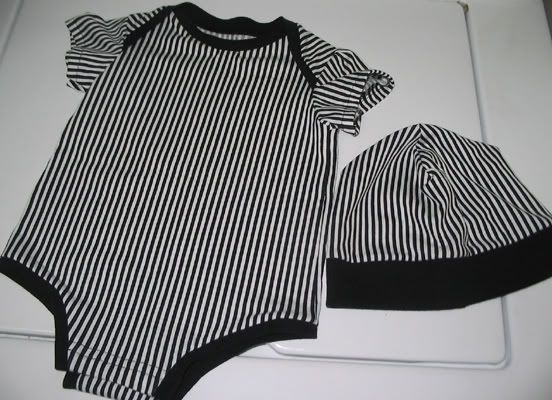 this was made on December 7, 2007. i know that because as soon as my best friend called to say she was in labour, i started pre-shrinking the fabric and sewing it! torrin x arrived at 10:45pm!
lots and lots of pj pants!
my grandparents visited for 2.5 weeks at the beginning of december (one of the many reasons i'm so far behind!) and
somehow
(don't ask me how, i still can't figure it out), my offer to help my grandmother make
one
vest turned into me sewing
umpteen million pairs
of pj pants for her to give as christmas gifts!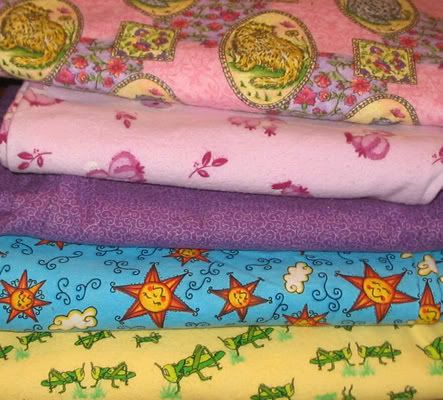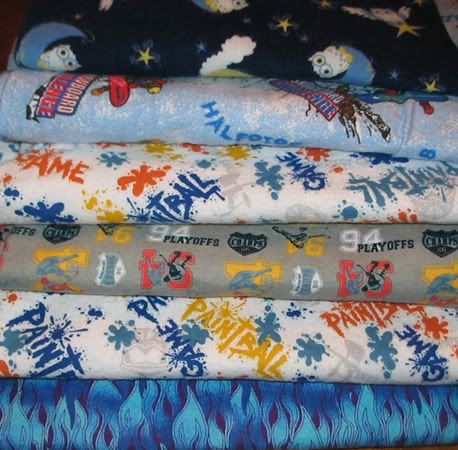 some of the ones pictured were mine - like the owls at the top of the last pic! i love that fabric, i made two pairs, one for a friend and one for me (i'm wearing them now!)
i also made a wreath - much more sedate than the halloween ones, but it was for my parents, not me.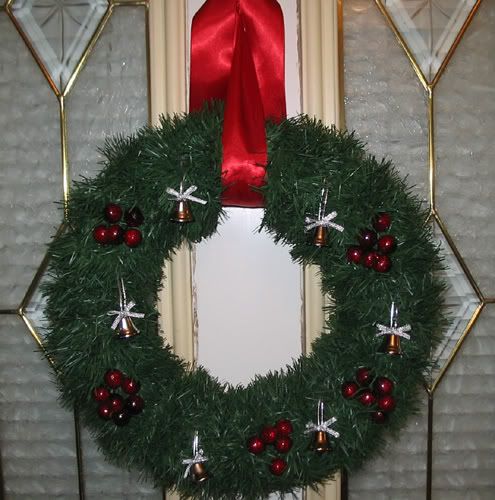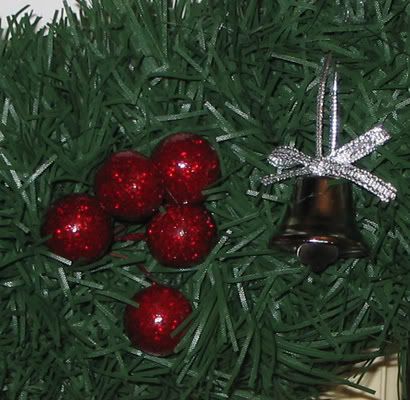 i wasn't able to find the wreath forms i used at
halloween
, so i bought one of those twisted branch style wreaths and wrapped the garland around it. the red berries came from
micheals
last year after christmas (i tore apart the bundles) and the little bells are from
daiso
i think.