i finished a couple more wreaths. these ones are WAY faster than the other, only about half an hour each. amazing what a time saver the glue gun is!
they're both made of a flat wood wreath form from the dollar store that i painted, then wrapped garland around. (each wreath used two garlands to cover them)
the orange wreath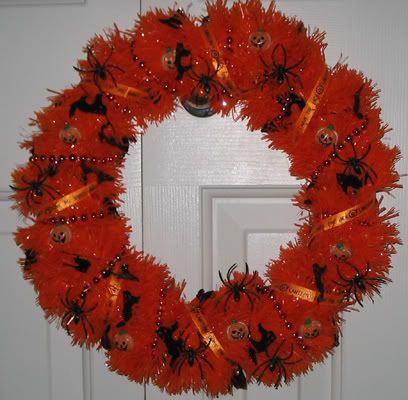 a black cat wire garland, little plastic pumpkin ornaments, orange mardi gras beads, black spider rings with the rings cut off, and halloween ribbon.
the fang wreath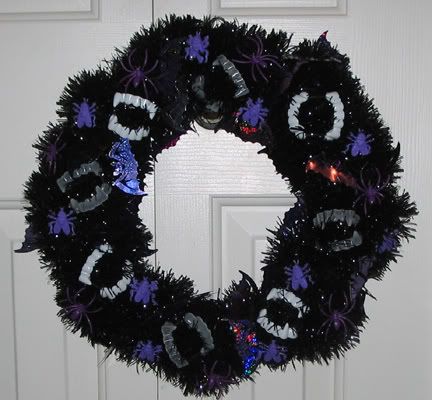 (the flash made a few of the irridescent bats look orange, but they're not)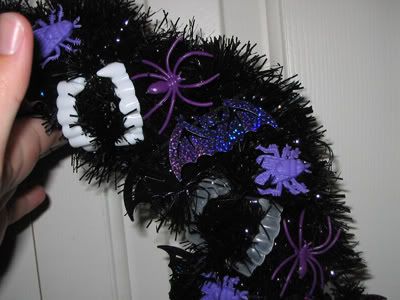 i got those cheapy plastic fangs and drilled holes in them, then used black embroidery floss to tie them into a biting shape. i threaded them onto a third garland to look like they were biting it, and wrapped that around. i added the irridescent bat garland, the purple spider rings with the ring part cut off, and the little purple flies.
i think they're so fun! and they were pretty cheap. i have a ton of halloween stuff already, so the base supplies were about $3 or $4 each, and then the extras. i probably spent about $10 for the two of them.
i've still got one more like this to finish, but i need to go buy more black garland. and then i have a grape vine wreath that i want to put halloween ATCs on too.