look at me, posting during the day! amazing!
and you can actually tell that it's daytime, because the sun is out! it's been sunny for about 3 or 4 days now, and it is SO refreshing, god, i hate the rain! spring is definitely coming, the rhubarb is coming up, there's a yellow rose blooming my backyard, i can go outside in just a sweater... oh, i'm so excited for summer. i need warmth. i'm such a cat, there's nothing i love better than curling up in a patch of sunlight for a nap!
so i've got a bunch of stuff to catch up on, i've had multiple tip in pages arrive since i posted last, as well as a chunky 4x4 page. and i realized i never posted the recipe cards i made in december.
the first tip in page
i started with a catalogue card for a book titled "one two buckle my shoe"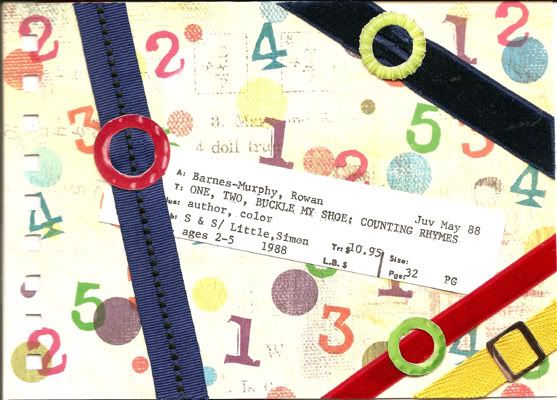 (the scan washed it out a bit)
i used a neat background paper that had kids playing, words from a kids primer, polkadots, and an overall wash to blend it all together. i
carved stamps for the numbers 1-5
and stamped them all over the background. i scanned vintage buckles, then printed them out and cut them out. i coated them with glossy accents (LOVE that stuff), so that they'd look shiny, like real plastic. then i threaded ribbon through them and glued it on.
the back is more of the same, a piece of the catalogue card and more buckles with ribbon.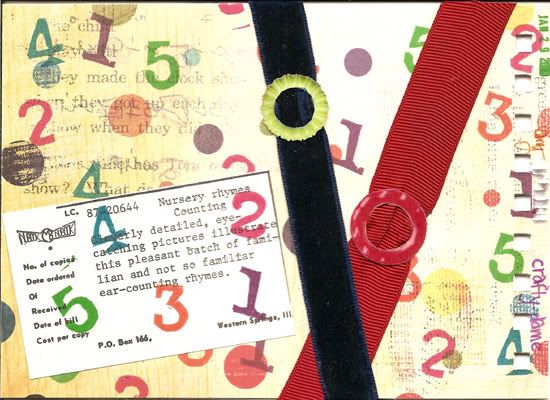 (though the scan isn't quite as washed out)
i really loved how the buckles turned out.
another tip in page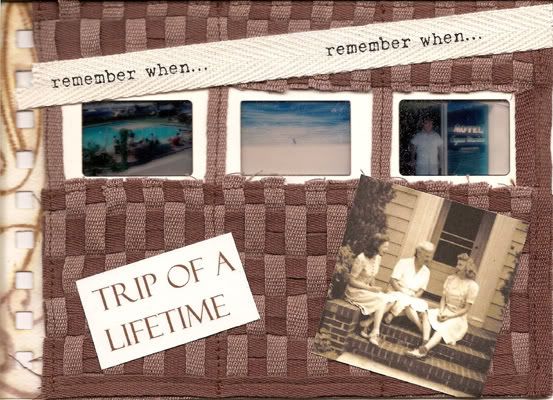 the picture of the women is from thepaperfleamarket.com, though i scanned it and adjusted it in photoshop to make it sepia toned before printin it out again the right size. my idea was that they're sitting around reminiscing about a family vacation, hence the "remember when" twill tape. the writing is actually on acetate, but it needed a backing to show up, so it's glued to some white cardstock. i bought this acetate that you can print on using an ink jet, and i'm really not liking it. it works cool, but it's got a wierd texture that makes me unhappy!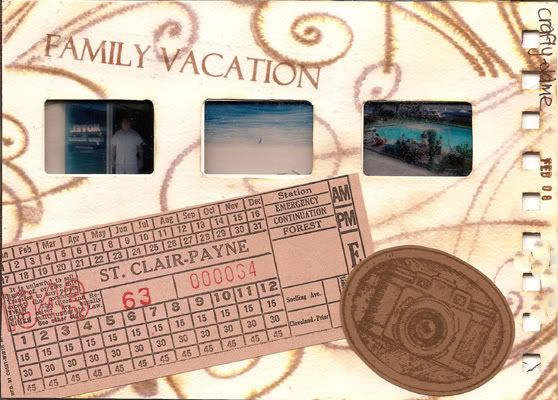 the back was stamped with the water technique before everything was glued together, and then i added the vintage bus ticket and the camera stamp. the writing at the top is a packing tape transfer, i've been playing around with those a bit.
it was really time consuming - dyeing all the twill, ironing all the twill, weaving all the twill, etc! (the twill was dyed using dylon hot "coffee" - the darker was left in longer) plus just figuring out how to do the slides between the layers, etc. but i do really like it. the slides came from stifflersmom a long time ago, and i finally got an excuse to use some of them!
and the recipe cards i made! i quite like them, they're pretty simple, so as to not distract from the recipe, but cool nonethless. note that i REALLY don't cook, i'm quite a klutz in the kitchen, but these are family recipes that i quite adore.
i scanned them and printed them out on cardstock for the swap.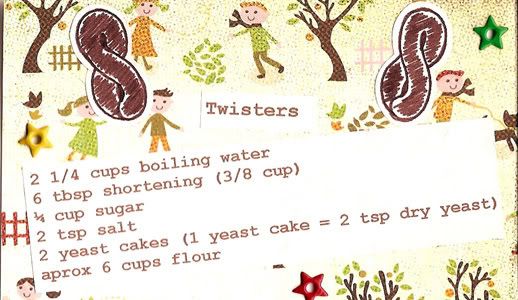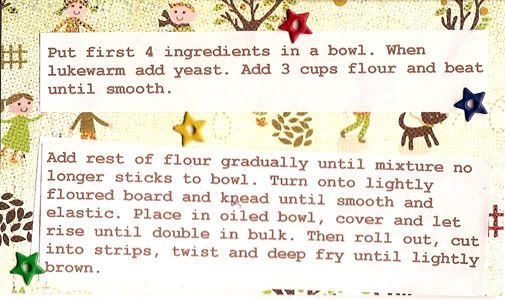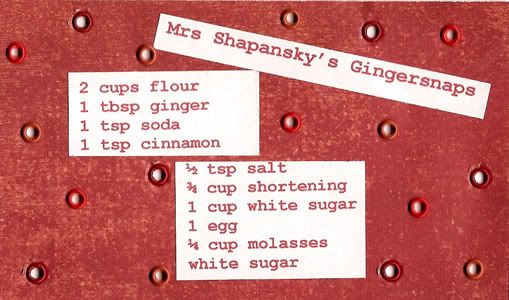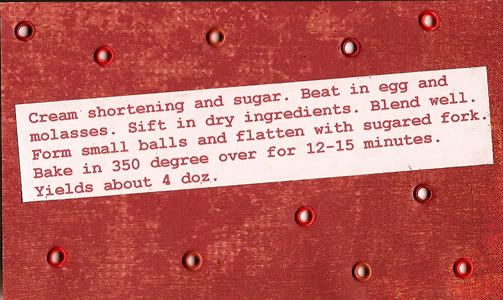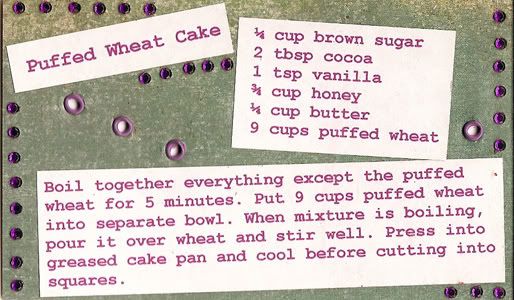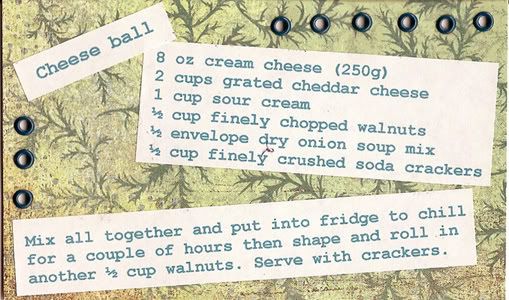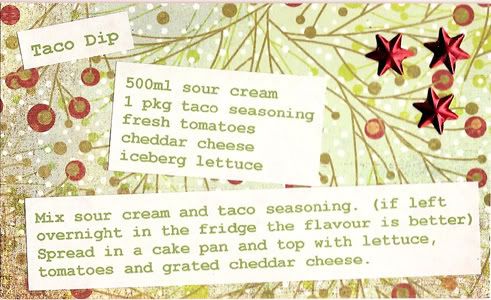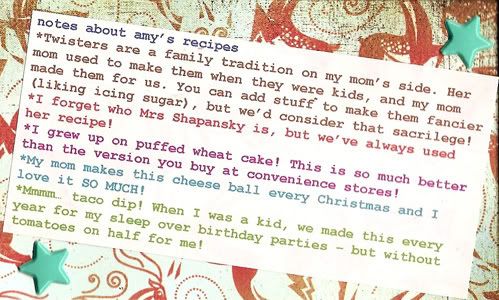 i'll post the chunky page in a few minutes... there are A LOT of pictures of it!