my valentines swap package has been received, so i can post the stuff i made!
i made one of these for the swap, but i was so in love with the results, i had to make more (see my etsy!)!
Flying Love Monsters!
i've now made 8 of them, my first prototype, and then 7 more. i can't resist their eyes!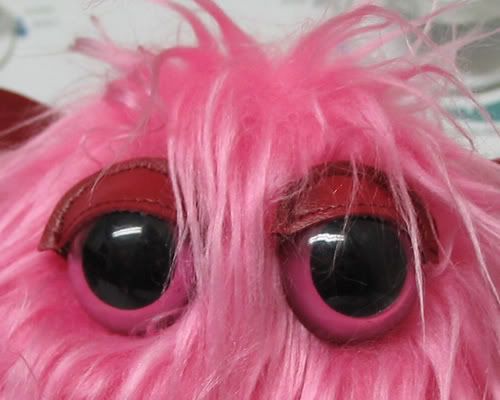 it's an army of love monsters!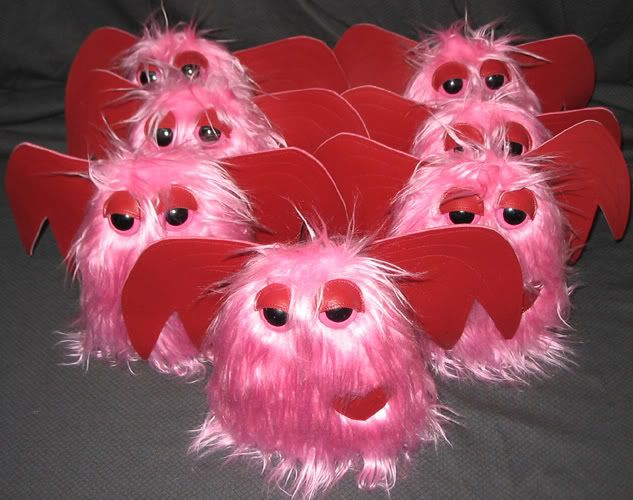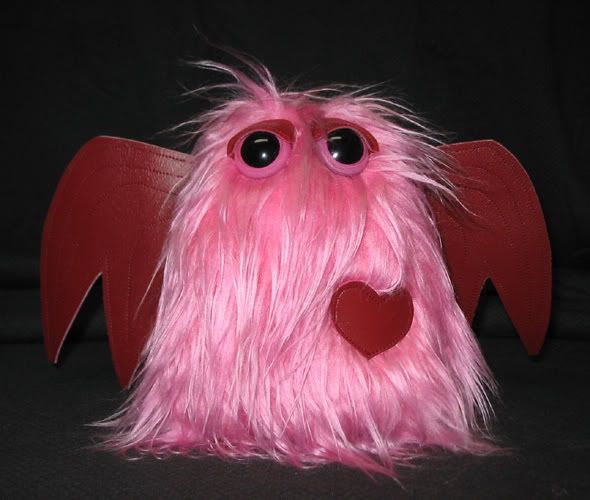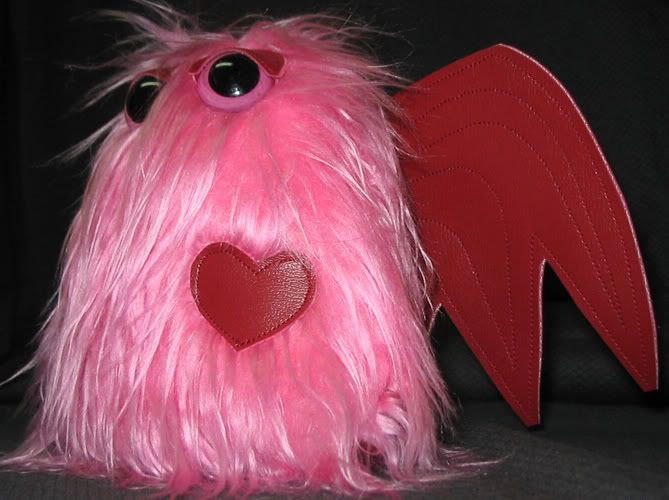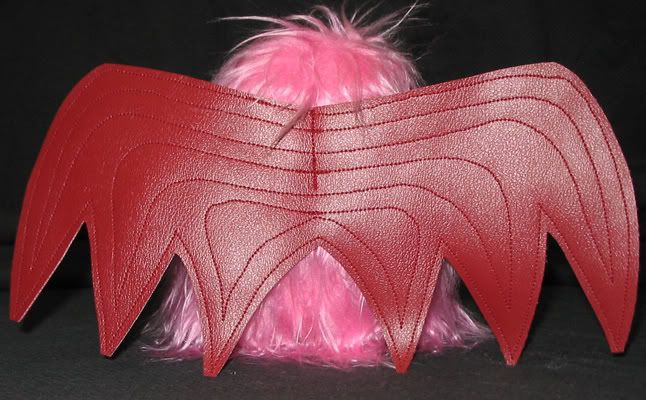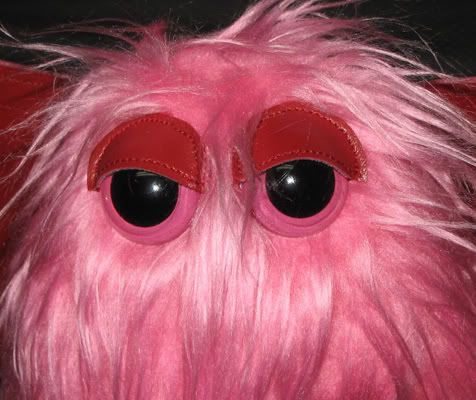 they're made of cotton candy pink shaggy fun fur, a luscious deep red upholstery vinyl, and lots of love! each 5.5" tall monster has lovely wings that are about 10" across, big pink safety eyes with red eyelids that look up at you adoringly, and a sweet little red vinyl heart on his body. they have plastic pellets in their bums, so that they sit up straight, and the rest of their body is firmly packed with fiberfill.
i was so excited about them that i had to name them, and give them all personalities!
Felipe adores hugs, kisses and cuddles, but he hates it when you ruffle his hair!
Francisco adores secrets, sweet nothings and sly kisses, but he's not so fond of PDAs. (public displays of affection) He's a bit shy!
Fernando is very fond of chocolate hearts, but thinks cinnamon belongs in baking, not little red candies! He adores little valentine cards, much like the ones we received in grade school, and never throws away letters.
Ferdinand has a soft spot for singles, and would love to make your valentine's day happier! He adores ice cream, wine and cheesy 80s movies, and always knows how to make you feel better, no matter how bad it seems. He's the perfect date for a "dating sucks" night in!
Filbert is a little bit geeky, in that adorable nerds are the best lovers way. He's a bit shy, because he doesn't understand his own appeal, and is very loyal and true. Once you win Filbert over, he's yours for life!
Fitzroy is a dashing monster, who is a little bit vain about his luxurious fur. He adores being petted, and loves hugs as long as you smooth him down afterwards. Kisses are great, since they rarely ruffle his candy pink locks. Fitzroy has a weakness for dames in short skirts who aren't afraid to kick it up a notch!
i was going to name one Flloyd, and then find another name for the prototype, but i decided i loved Ferdinand and Fitzroy too much, so i sent my swap partner a Ferdinand, and named the prototype Fitroy2!
oh! and if ANYONE knows where to get more of the eyes, PLEASE let me know! i can't find big ones anywhere, unless they're brown! these one are old stock, i got them from the thrift store, but i know they came from the store i used to work at years ago (i recognize the price tags - small world, isn't it? )