really bad blogger. my resolution to start going to bed earlier has severely affected my blogging! i don't know why i never get around to it during the day, but the internet is definitely an evening thing for me.
(as usual, blogger has cut off some of the bigger pictures, such as the inchies and the tip in page. click to see the whole thing!)
anyway. i have been working on some stuff, including finishing my
50 inchies
,
several tip in pages
, and a page for a new swap, the
4x4 chunky book swap
. one of the tip in pages is recieved, one is in transit, and one is waiting to be mailed, as is the 4x4 page, but i can show the inchies and the received tip in page! (and i can give you a hint about the two tip in pages yet to be received - i LOVE my newest toy -
glossy accents!)
the tip in page! i really love this one, and the very cool thing is that my partner and i both made pages of the same theme! (to see what i received,
check out the gallery
)
front -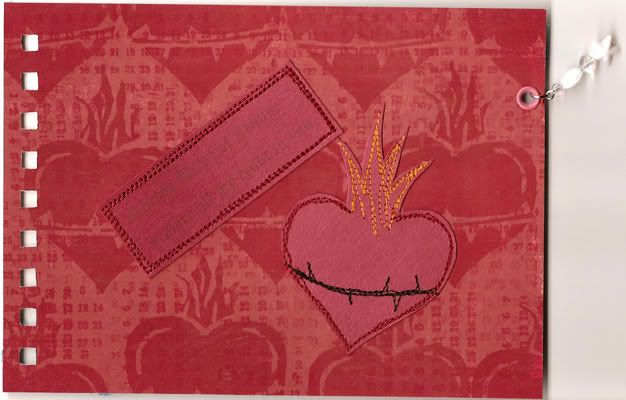 i stamped all over the red paper with the calendar, to add some numbers in there, and then stamped over that with the sacred heart
stamp i carved
. then i cut out the sacred heart shape out of this cool shimmery metallic red paper (the shimmer doesn't show in the scan) and machine sewed it onto the paper. i printed out the phrase "sacred heart of jesus, i place all my trust in you" on some of the shimmer paper and sewed that on. i'm a little peeved that the writting got duller - i waited a long time after printing it before i sewed it on, to make sure it would dry and be permanent, and it was fine then. i don't know what happened. and the grommet on the side (attached with my CROP O DILE!) has beads hanging from it, the little white one is this teensy little pressed glass bead with the lady of guadalupe on both sides - it's so cool! i bought them on etsy, the picture from the shop
shows the detail a lot better.
back -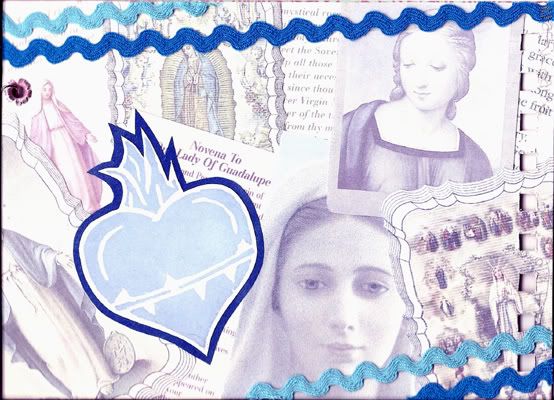 i scanned all my religious cards and altered them in photoshop to make them more blue (they're usually very creamy/browny). i printed them all out, trimmed all the edges and collaged them onto the page. i stamped the sacred heart stamp in sky blue pigment ink onto white paper, but it was still a little too blah, so i glued it onto this very cool shimmery/irridescent blue paper (the funness doesn't show in the scan and it just looks navy, but it's actually lighter). i added the rickrack (it's sticky stuff, for scrapbooking) because i thought it needed a bit more shades of blue.
(unfortunately, my heart stamp is not lasting all that great... apparently "cuts like butter" also means "falls apart ridiculously fast"....)
and the inchies!
these ones are two layers of cotton and two layers of stiff interfacing zigzagged together, so they're pretty sturdy. they didn't scan that great, unfortunately, due to the "3-Dness".


here's photos of them, with and without flash, to get a better idea of how fabulous they are (i'm such a sucker for sparkley and glittery things!!)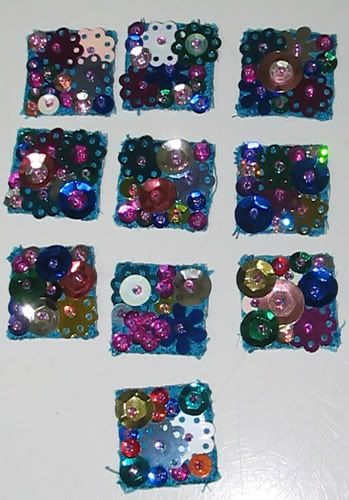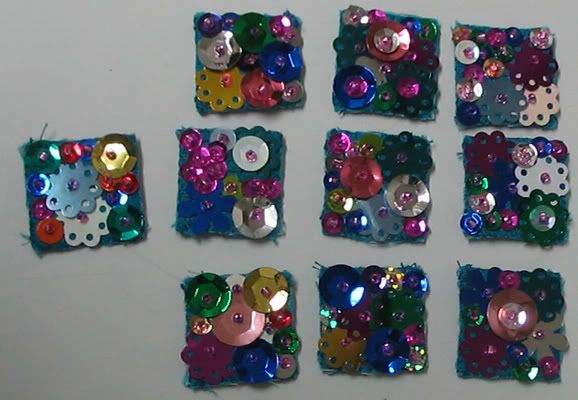 this is my other fabric set -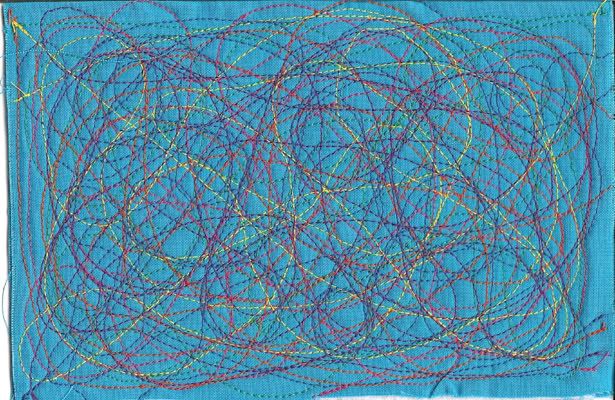 this is the background i started with, it's two layers of cotton with thin batting in between that i sewed the hell out of. (i finished up 4 bobbins doing it!) it's fuscia, orange, yellow, green, dark blue and purple. it was looking fairly bright, so i did a lot more lines of the purple and dark blue to tone it down.
and the finished inchies.


the printed ribbon came from the
awesome scrapbooking store in langley
, and the rhinestones are set with my handy dandy rhinestone setter that i hadn't used in years... these ones needed a cardstock backing too, the batting wasn't enough to keep them firm, i added that after the rhinestones.
while i'm at it, i'll post the finished version of the naughty/nice inchies i made at the beginning of the inchie obsession!




all of the inchies are backed with this - i made it, scanned it, and printed out 50 of them, cut them out, xyron'd them, and stuck em on the backs.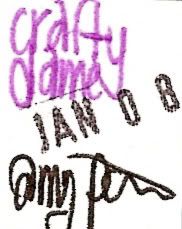 i also did a bunch of sewing a few weeks ago. i started working on a stuffy for the
love/hate valentine's day swap
that i'm organizing, and was so in love with the result that i had to make more to put up in my etsy. i love them! i'll post them here once my swap partner has received, but if you're really impatient, you can check my etsy!
i did a papercraft project for that same swap, but again, i'll wait to post it. i am so enamoured with how it came out, i can tell you that much!
i carved this for one of my tip in pages, though i didn't end up using it. i don't really like this stamp block - when you clean the ink off of it, the edges start to round. this is the second type i've tried - i guess i'll have to give in and use actual lino i guess - though i have one more brand of blocks to try.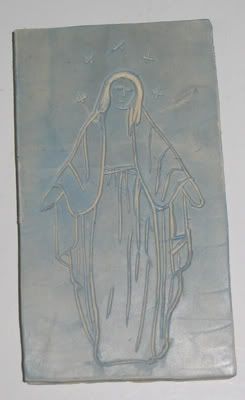 and i carved these the other night, after realizing that i didn't have any plain number stamps. they're erasers, and honestly, erasers have been the best carving tool thus far! if only erasers came in bigger sizes...

i think that's a long enough, post, don't you? i have more to post, but i'll do it seperately.