mmmm, christmas! so many fun fabrics!
when taloola and i were matched up in the stocking swap, i really wanted to make her a "naturey" stocking that was still somewhat christmassy, but wasn't too country. i thought it might be a lost cause, but off i went to my crawl space to search through my ridiculously large bins of fabric, and i found the perfect fabric with birds and several others that matched incredibly well. it was fate!
i cut the fabric into strips, and cut out two stockings out of cotton batting and two stockings out of lining. i foundation pieced the fabric onto the cotton batting pieces, creating two quilted sides. after they were both done i went back and stitched around each of the red cardinals, though that's not visible in the pictures. it was just for visual interest anyway!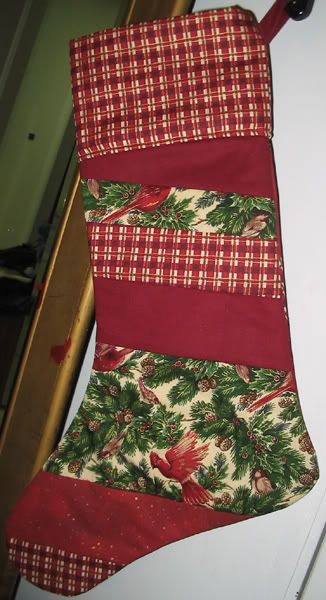 after i'd stitched the two quilted stockings together with the lining and turned it inside out, i added the cuff at the top, which also has cotton batting in it.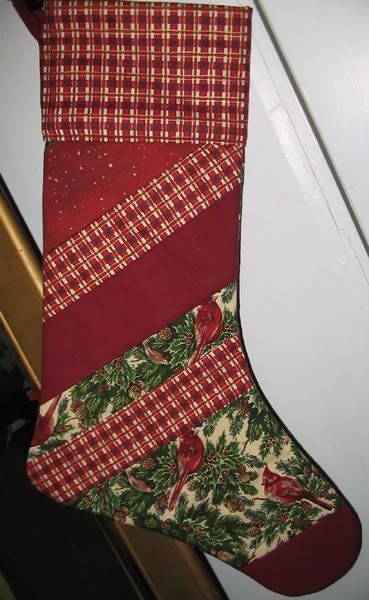 i can't decide which side i like best!
i still had lots of the fabric left over, and i really wanted to make her something else with it, so i toyed with the idea of making reusable christmas bags for wrapping out of it, which seemed practical, but rather boring!
the next day i ran across the
owl garland tutorial
on
moonstitches
, and i knew i'd found the answer!

i carefully cut out the owls to minimize white spaces among the branches on the birdy fabric for half the owls, and cut out the other half out of the plaid. i used the same cotton broadcloth for all the bellies, to tie them all together.
i searched through all my white buttons searching for sets for the eyes, which was much harder than you'd expect it to be, given the size of my button collection, but finally found 13 sets! i picked up some goldy embroidery floss and a roll of matching ribbon, and sat in front of the tv one night (watching CSI, i'm sure!) embroidering the beaks and sewing on the eyes. i strung the owls onto the ribbon, and then realized that the ribbon was much more slippery than the twine used in the tutorial, so i tacked each owl to the ribbon through the back.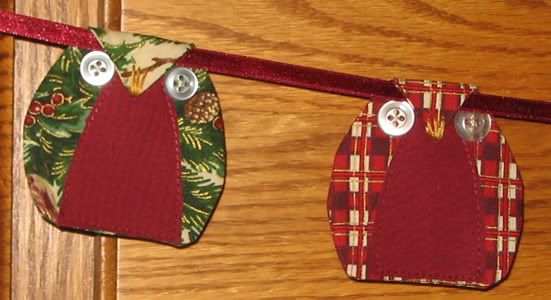 after i finished the garland, i realized i couldn't stop making owls!
at the same time, i was trying to think of a little something i could send to some of the mods for a christmas prezzie that would be easy to ship and fun to receive, and could be worked on while i was visiting family in manitoba last month.
owls were the perfect solution!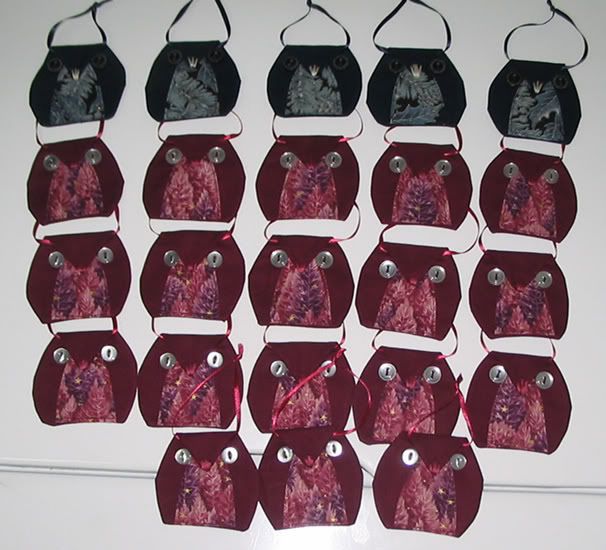 they're lightweight and flat, so they just slipped into the christmas card, and didn't even add to the shipping cost when i took them down to the states to mail (i love USPS! so cheap, and y'all have those fun knitting stamps this christmas!).
i cut them all out, sewed them together and pressed them nicely, and then i took the buttons and ribbon and embroidery floss with me on my trip and finished them while driving across canada and then while sitting in my grandma's kitchen listening to her and my grandfather bicker!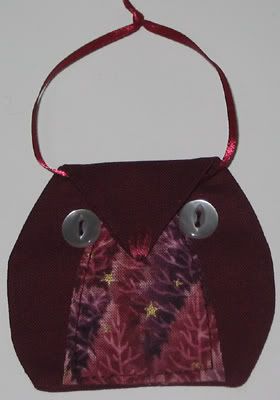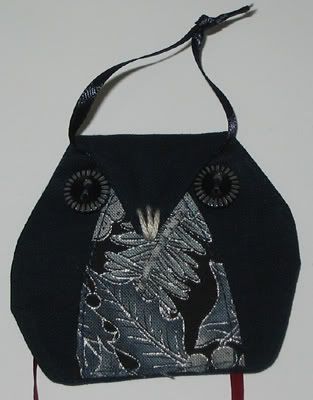 i didn't even attempt to find enough buttons in my stash for these ones, i got my cute butt into dressew in vancouver and bought them! i especially love the buttons i used on the blue owls. i wasn't able to get many extra of them, so it was a good thing i made less blue owls!
i'm still going to make more i think, just to give to random friends and family. they're just so damn cute!