on the christmas topic, i got a little obsessive about wrapping....
(i do this every year!)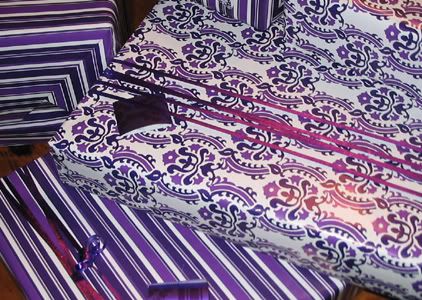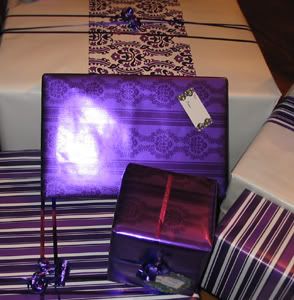 pretty! the paper is all from
ikea
, except for the white i used on my sister's gift (i wasn't going to waste that much fancy paper!), and the ribbon is from a dollar store.
i also went really gung ho on baking and candy making a few days before christmas
cupcakes for my birthday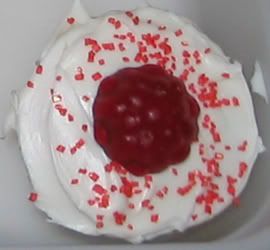 cupcakes for christmas
(obviously, i'll take any opportunity to make cupcakes!)
white chocolate bark with pumpkin seeds and dried cranberries (soooo yummy!)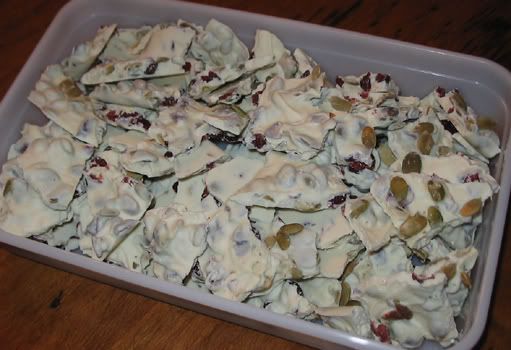 milk chocolate bark with peanuts and butterscotch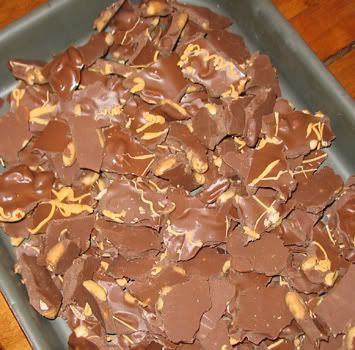 and chocolate dipped pretzels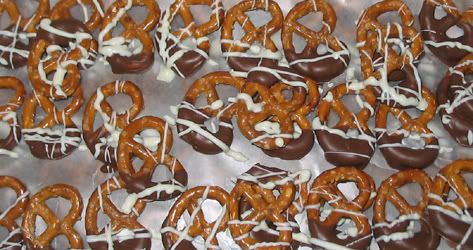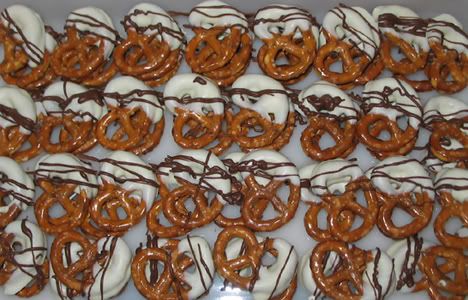 after all that, i was pretty much sick of sugar!
while i'm at it though, i should post the cupcakes i made for my dad's birthday party in december..
worms and dirt!
the only suitable candy i could find at the last minute were the worms. i dyed the tub of icing green with food colouring, and i didn't have oreo crumbs (and hell no, i'm not wasting my double stuffed oreo stash!), so i used black sprinkles to look like dirt.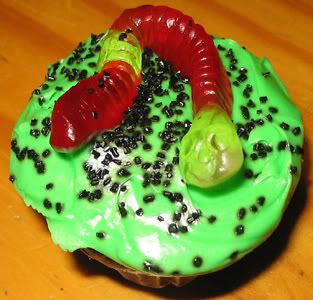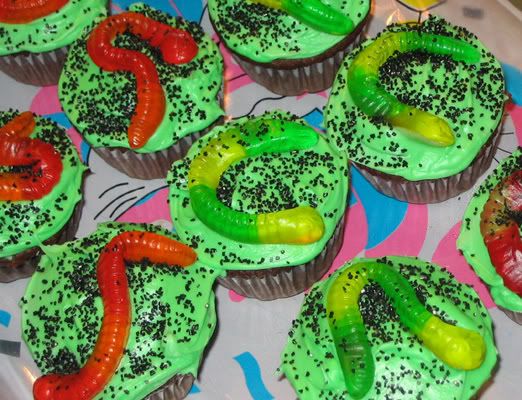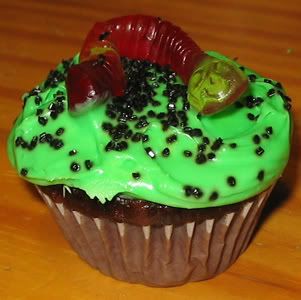 this is a couple of days after i made them(this was actually the last one!), and the black kinda bled into the icing a bit.
i made these polyclay skeletons for a swap back in october or november, but i never got around to posting them..
i've been determined to make polyclay dolls for YEARS now! i either get them half finished and get bored (i have two or three dolls waiting to be assembled!), or i get frustrated when they don't look the way i want them to and i give up.
but these ones worked! i was so proud!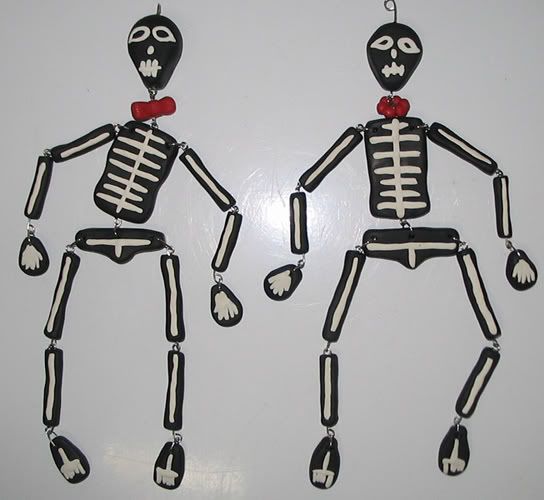 they're made of premo, and are about 8" tall or so. they were baked with the eyepins in, and afterwards i very carefully attached them together. the bowtie is on a jumpring, though the strand of pearls is loose and was just strung onto the join between the shoulders and the head.
i was going to paint the bones on, but i decided i really didn't trust my painting skills, so i used very thin bits of white polyclay to create the bones. i baked the black pieces for a little bit, just to make sure they kept their shape, then added the bones and cooked them the rest of the required time.
and then i just couldn't stop playing with the polyclay!
i decided to make a bunch of stamped things, so i rolled out a bunch of clay, hauled out my stamps and went at it. most of them were just for the hell of it, but a few were for specific projects.
after they'd baked, i painted everything with a light wash of acrylic paint.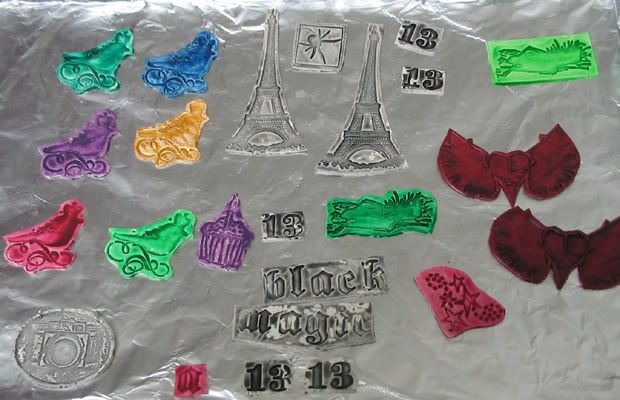 the black magic writing was for a page in the tip in swap, i later painted them entirely black because i wasn't happy with the wash, and filled the letters in with glitter.
the random green ones were supposed to be grasshoppers for another tip in page, but they were pretty unrecognizable!
the birdies became these lovely christmas tree ornaments for taloola -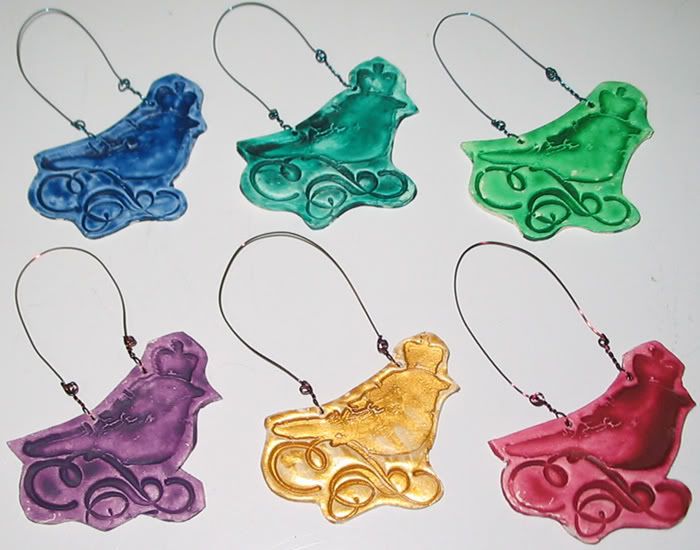 and the cameras became necklace pendants (i made two, but i think i was already wearing mine when i took the over all picture!)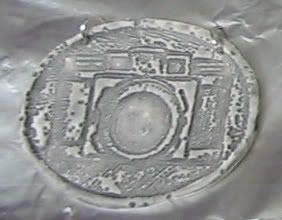 this is mine, strung on a coated cable choker.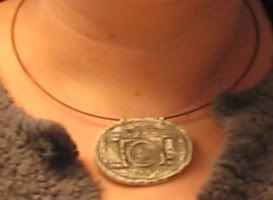 sweets4ever's picture is soooo much better than mine! here's her necklace, along with the stamp i used to make it -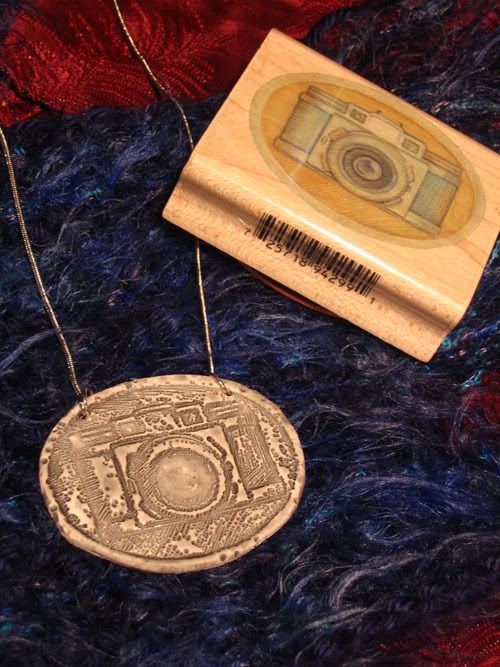 i still haven't decided what to do with the red winged heart stamp, it didn't turn out to be the right shade of red for the project i had in mind...
i think my favourites were the cameras and the eiffel towers, just in terms of how much detail the paint wash picked up - soo lovely!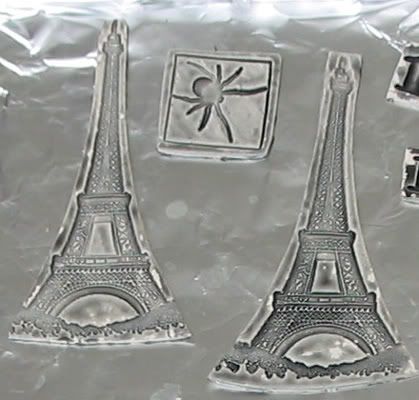 i thought the eiffel towers would be lovely necklaces until i realized that they're too long, the two bottom edges are in the perfect position to poke your boobs all day!