i bought this yarn AGES ago, at least a year ago, knowing that i'd one day find a use for it, and when taloola and i were matched up in the stocking swap, i knew i'd found the reason for the yarn! it's totally her colours, and i was so excited to use it! i also knew that she and her hubby were hoping for a new addition soon, so i decided to make it a "wish shawl", and spent the time crocheting thinking about them and what fabulous parents they'd make.
i only had 14 balls, and the balls were only 38 yards long, so i went searching for a pattern that used chunky yarn, but not too much of it!
i found
the one-ball half-moon shawl on the lionbrand website
, and got all excited... except that it calls for one ball of yarn that's 480 yards long! much longer than my 38 yard balls!
after much use of the google calculator (as IF i could find one of my three calculators in my mess of a studio! ), i decided to try it, figuring if worst came to worst, i'd just leave off the last row or something.
as it turned out, i only needed 10 balls! yayy!
all spread out on a towel to protect it from cat hair -
(note the paw peeking into the picture! sofie was curious!)
and on my dress form, with flash -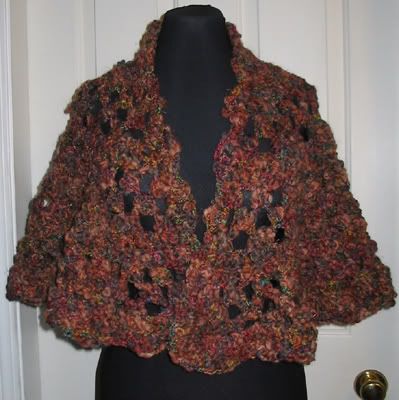 and without flash, which is probably the most accurate representation of the colours -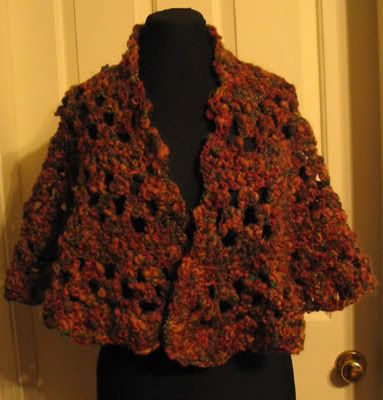 it's super cozy and comfy and warm!
and then, since i still had two balls left, i decided to make her a scarflet as well.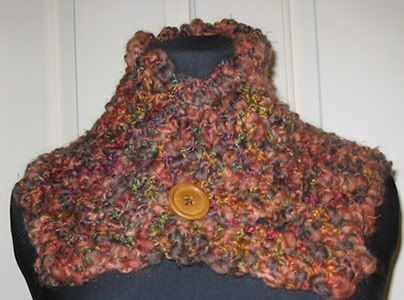 i just chained 15, then double or triple crocheted across (i forget which now). i added the vintage button to secure it, and ta-da!