i made these in the fall of 2000, but i just took pictures this spring.
i made this for my oldest friend. she and i have had a running "fishy-fishy" thing going since we were about 12, so i made her this pillow for xmas 2000. the bali looked like water, and i loved the fish fabric. then i handsewed silver irridescent beads all around the edges and along al the seam lines.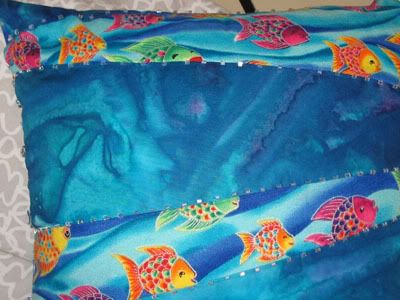 she's had it on her bed for almost 7 years now, so it's lost a lot of beads!
http://img.photobucket.com/albums/v395/crafty-dame-three/quilting/fishback.jpg">
i did some mediocre embroidery on the back...
and jaydee has this obsession with puple tulips, and i love them too, so i made him this pillow. it's a combo of regular cotton and flannelette, and it's getting really worn. it's been in my storage for about 5 years! he keeps asking for me to send it to him, and i keep forgetting. kind on purpose, cause i'm not particularily that proud of it. plus, it needs to be fixed up a bit. i hate using cotton thread, it breaks so easy!
i was keeping with the traditional light/dark sides of the log cabin.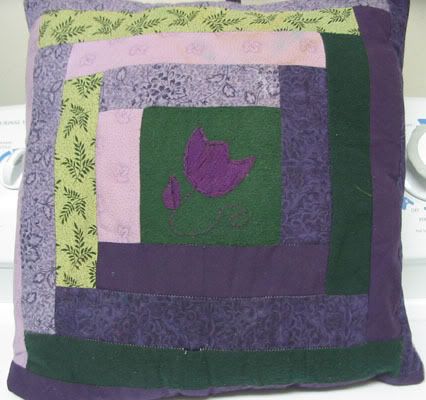 again with the mediocre embroidery!