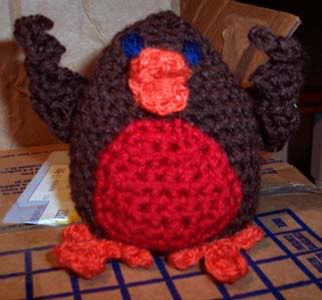 this is mr robin. he really needs a better name, but i have difficulty being clever at this time of night.
he really isn't as scary as he looks, the camera i took the picture with just sucks ass. the colours are a bit better in real life as well, though apparently real robins aren't quite that dark of a brown.
he's actually very cute. he's filled with beans, so he's got a nice weight to him. he'd be great to throw at someone. and i love his little beak. very cute.