stilettos just did a photo shoot, and some of the pics are stuff i made! yay for good quality costume pics!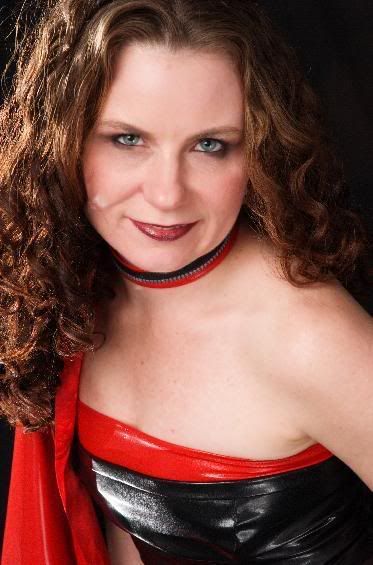 i KNOW i made the red bandeau bra karen's wearing, and i think she's wearing the dress i made for the show before last over top of it (i can't tell for sure without seeing the bottom, but the band at the top is the same). oh, and the collar was for the last show, red vinyl with a zipper sewn on just for looks.
you can kinda see karen's red vinyl cape (little red riding hood all grown up!) on the left. and now i'm sure she's wearing the black vinyl mini dress, cause i can see the bottom too. and kate's wearing the red vinyl bra i made her for the last show - that thing took FOREVER, the vinyl's all handsewn over a bra she already had!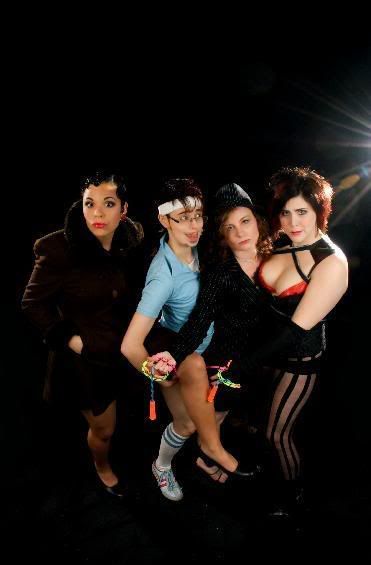 kate's wearing the red vinyl bra, and the top i made her (well, if you can call it a top, it's basically a back with straps across the front).
pics from http://profile.myspace.com/index.cfm?fuseaction=user.viewprofile&friendid=122582693&MyToken=5ef5d255-053e-457e-b0f0-78baa59c23a9
here are some crappier pictures of the stuff i made them for the fall/06 show...
okay, here are a few crappy pics-
karen's cape -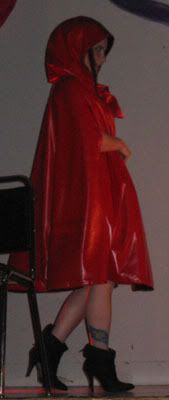 (it's fully lined with a fabulous black fake fur/fleece fabric so it's super cozy as well. since she was paying out of pocket for it, we wanted her to be able to wear it whenever she wanted, and it's perfect for standing in line at the club! it's also got two big pockets on the inside that are hidden. the arm slits were a late addition, and if i'd know earlier, i would have been able to position them closer to the front instead of in the side seams, but oh well)
kate's outfit for human nature -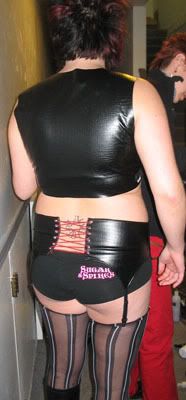 (i made the top, the bra and the garter belt. instead of ribbon for the lacin up the back, i used that thin bungee elastic. it works great, and it's sooo much easier to get dressed quickly backstage!)
and a kinda blurry one from human nature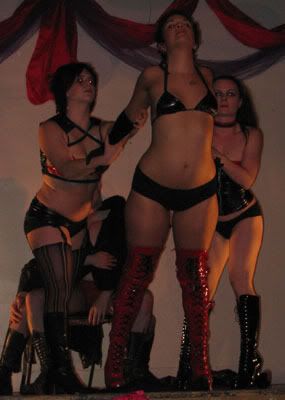 (karen's wearing the red bandeau bra, the collar and a black snakeskin vinyl bustier with a zip up the front and shawna's wearing the eensy teensy bra i made her out of the same black snakeskin, thanks to the patterns jean shared with me!)