look at me, writing a WIP Wednesday post on WEDNESDAY!
unfortunately, i don't have much to report! i think i mentioned recently that i'm feeling a bit overwhelmed by things that need to be done in the next few weeks, but i think if i sit down and actually figure out what needs to be done by when, instead of just thinking "i'll never get anything done in time, i might as well just play bejeweled until i feel less stressed...", it'll all be less overwhelming.
so basically, today's post is really more about me than you...
first of all, i have one more bee block to get caught up on for the
Unscripted Bee
. i made my blocks (two, actually), and then i got stalled on my signature block and the improv block made out of the extra fabric. that needs to be done ASAP.
also for the Unscripted Bee, june is my month! it kind of snuck up on me (it's june, what??), but i know what i want to do, and i've played around with options a bit, so now i need to buckle down and make a sample, so that i can write out the instructions and send out my packets of fabric. that also needs to be done ASAP!
for the
Fab Bee
, i need to finish Holly's block, but since i'll be giving it to her at our next exec meeting, which is next week, i have a few days to get it done.
as for the June Fab bee block, the fabric was just mailed yesterday, and i have until the end of June to get it sent back, so it's not as super duper urgent.
and for yet another block, i'd really like to get our
VMQG
challenge block finished before our meeting. it's going to be in our guild logo colours, similar to the
QuiltCon block challenge
, and since this month's meeting is our TWO YEAR ANNIVERSARY, we really want to get as many awesome modern blocks done for the meeting as we can.
that's a lot of improv, isn't it?! definitely a reoccurring theme.
i've also got a pouch theme going on, with pouches to start, pouches in progress, and pouches to post, as evidenced by
Sunday's post
.
i posted a
whole long list of tutorials on the VMQG blog
the other day, complete with some inspirational eye candy, so that's done, thank goodness!
now to decide on which techniques to actually use.....
i have two partners in the swap, so i've got two pouches to make. i've got one of them figured out, and i'm super excited to start on it, but i need to figure out what i'm going to do for the other one. they both need to be done by the June VMQG meeting too.
and in non-improv or pouch news, i've finished the top for the quilt that i posted in my
last WIP post
, the grey prints with yellow linen. the back needs to be pieced, because it's about 3" too narrow, so that's the next step.
i also have a belated embroidery project that i'm working on when i'm not up to sewing, and i need to thread in all the ends on the back of my
Ace of Hearts Mini Quilt
SPEAKING OF WHICH, HAVE YOU VOTED YET? please go vote, it doesn't have to be for me! though that would be nice, if you want to!
i also have a ton of computer stuff and e-mails to get caught up on (i'm sorry Holly! and Arita! and everyone else!), so i'm definitely busy.
however..... i'm really really hoping to carve out some time to play with my new toy....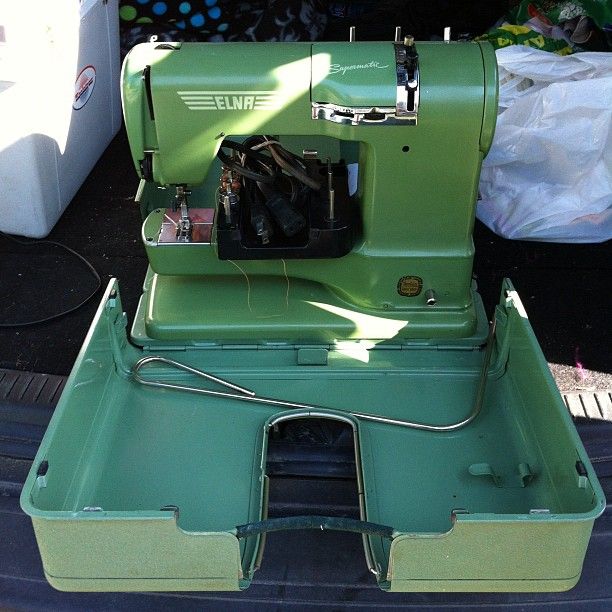 an Elna Supermatic!!!!
isn't it pretty? it's even got the little bakelite bobbin and accessories holder! (but not the super cute oil can - oh well)
i'm so excited about it. i totally did NOT need another Elna, but i don't care, i love these machines. (i love them so much that i'm planning on a tattoo that'll include one!) it's still down in my car, and i keep forgetting to check the serial number to see when it was made, but this model came out in 1954. it's commonly called an Elna Grasshopper, though technically, i think the grasshopper was the first model, the one before this one. i actually prefer the aesthetics of this model, it's a bit curvier. and it still has the same awesome case, that turns into a table to sew on. really! i think it'll be awesome for quilting, to have such a large surface.
(photo credit to Krista, who posted it to instagram and got all sorts of comments on it, so i'm definitely not the only one who loves these machines! also, please ignore how messy my car is!)