it seems like everytime i post an article of clothing, i tell you that i used to make more clothes, honest.
it's true, i did.
and based on the size of my fashion fabric stash, i'd better get back into the habit.
but it's hard, when there are SO MANY quilts to be made, right?
one way to satisfy the quilt lust AND add to my wardrobe at the same time is to use those yummy quilting cottons for clothing. unfortunately, it's not really my favourite garment fabric.
let's be honest, for a top made of wovens to have enough fabric to let you move comfortably, it's usually pretty baggy and shapeless.
that look can be flattering if you're a smaller size, but for the rest of us, it has a tendency to lead to questions about our due date.
even knowing that, it can still be incredibly tempting to make yourself clothing out of that gorgeous AMH print, which is why this shirt pattern is brilliant!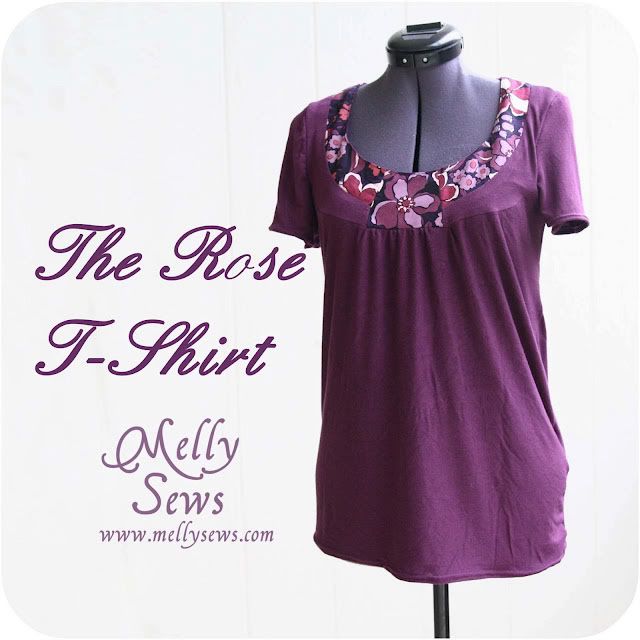 designed by Melissa of
Melly Sews
, the
Rose T-Shirt
is made of a knit, so it has movement, comfort, and fit, but it ALSO lets you use some of your favourite designer quilting cotton.
when Melissa asked for volunteers to test her pattern before it was released, i jumped at the chance. i NEED to start sewing clothing again, if not to add some variety to my wardrobe, at least to start using up my stash! (garment fabrics take up too much space!) plus, i love designs that let me use my favourite quilting cottons in garments without requiring the full garment to be made of a woven (cases in point,
my dresden skirt
and
green bicycle hoodie
).
(i totally need a freaking haircut or something. bad hair day! that's what happens when you take pictures immediately after a nap without looking in the mirror first)
it didn't even occur to me to ask what sizes the pattern included when i volunteered, and it's been so long since i've followed a pattern for clothing that i'd forgotten that they don't come in my size anymore. however, it was super easy to adjust the pattern to make it larger, especially since i was making it sleeveless.
(also, i don't have a clue what i'm doing here. either my mom or the cat did something weird.)
the other change that i made to the pattern was to add a band at the bottom rather than a hem as instructed. this was partly laziness on my part, adding a band is less hassle than a hem, but my primary purpose was to add a little bit of length. the pattern as it's available now has an option for a longer top, but i cut mine based on the draft pattern.
i think that the pattern was supposed to have a bit more gathering under the centre piece, but i didn't enlarge the body piece quite as much as i enlarged the yoke piece. that's definitely a correction for next time.
i love this safety pin fabric.
i love this top. it's super comfy, it's super cute, it was super easy to make... perfect!
and i can happily report that this top DID motivate me to sew a few more garments, or at least, to start a few more! unfortunately, this has also led to clothing blog skimming, tutorial bookmarking, and fabric purchasing.... but i'm determined to use the new fabric! and the upcoming
month of ruffles
at
See Kate Sew
should be good motivation, you guys know how
i love ruffles
and any excuse to use my ruffle foot....
i'm popping this into the pool for
Made For Rae's Spring Top Week
, not only because there are prizes
(we're less than a week in, and there are already numerous awesome entries, but one can hope, right?)
, but also to show off Melissa's awesome pattern!