can you believe that we're almost to february? we're 3 weeks into january! how did that happen?!!?
there are SO MANY THINGS going on in blog-land these days. i'm a little disturbed by it, to tell you the truth. how do all of these people have time? why aren't they spending their januarys finishing late christmas presents? did they all just throw up their hands in defeat on december 31st? that must be it. and really, good for them. if the presents are late, they're late, an extra month or two won't make a difference. or maybe they said screw the handmade gifts for 2011... i applaud that as well.
i was wishing that i had the time to do a quilt-a-long or two, but that's just not gonna happen at the moment. then i decided to keep track of the interesting quilt-a-longs so that i could go back to them when i DID have time, and there were so many of them that my list turned into this post. if you know of others, leave a comment with a link, please.
there are multiple scrappy quilt-alongs at the moment, and it seems to be good timing - enough people have been quilting long enough to have ridiculous scrap piles!
Jodi from
Pleasant Home
is running a
Sew Scraps Along
with tons of inspirational posts, links to tutorials, prizes and so much more.
Rachel over at
Stitched in Color
is doing a
Scrap Attack Quilt-a-long
, with weekly tutorials and/or interviews with other bloggers. and if you finish a scrap quilt by the end of March, you can win prizes!
justabitfrayed
is doing a
scrappy quilt-a-long
with a specific pattern, and it's so pretty!
however, the most popular Quilt-Alongs by far are star or sparkle themed. HUGE trend for 2012, obviously! (and isn't my little
group quilt
cutting edge then?)
Chelsea from
Pins and Bobbins
is running a quilt-a-long for the
Made In Cherry star quilt
designed by
Sarah Fielke
Faith from
Fresh Lemons
is doing a sampler style quilt-a-long that's all different star blocks, called
Solstice Stars
.
Jeni from
In Color Order
and Megan from
Canoe Ridge Creations
are coordinating a
Sparkle Quilt Along
that's super cute.
Elizabeth Hartman of
Oh Fransson
is running a quilt-a-long for her pattern
Sparkle Punch
.
here's a pillow top made up by flickr user
GoingSewCrazy
. isn't it gorgeous!?
Hannah from
Heartbreak Homestead
has posted the first block of her Starry Skies Sampler Quilt project, and it's very lovely.
and vintage sheet stars!!! Holly told me about this yesterday, and i'm so in love! Sheila at
Thought and Found
is creating a stunning star quilt, with blocks that she's designed as well as blocks designed by various guests. i know i totally don't have time for such an ambitious project, but oh my goodness!
if you're not into stars, you still have a few other options...
Jeni from
In Color Order
has started an
HST block of the month for 2012
, so you could do that instead!
or how about the
Swoon-a-long
that Katy from
Monkey Do
is organizing, using the
Swoon pattern
by
Camille Roskelley?
or the
monthly mini-quilt sew-along
that Randi at
I Have To Say
is doing for 2012? each quilt will start on the 2nd tuesday of every month, and the supply list will go up about a week before that. january was courthouse steps, don't they
look lovely
?
Sarah from
Narcoleptic in a Cupboard
is in the process of designing a really lovely quilt as well, called the Stained QAL because of the quilt's stained glass look. you can see
the original quilt here
.
Jenna at
Sew Happy Geek
is doing a modern/traditional mixed sampler style quilt-along that looks awfully cute. 3 blocks have been posted so far, and the
flickr group
is so pretty!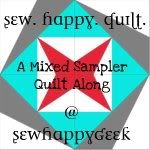 Kim's Crafty Apple
is coordinating a House and Tree Quilt-Along that could be super fun! there will be 16 blocks total, all designed by different people, and each block will contain either a house or a tree, or both.
Two
blocks
have been posted so far
, and more are coming! i saw a sneak peak of the block that will be released on January 31st and it's GORGEOUS! seriously, i think i'd be happy making 16 of that same block.... as everyone in the
VMQG
knows,
Terry
's pretty amazing.
or maybe you'd rather focus on colour for your theme?
Pantone
released their official colour of the year, and it's "Tangerine Tango" Ali from
a²(w)
and Erin from
Two More Seconds
are hosting a Tangerine Tango Quilt Challenge, complete with two categories and awesome prizes! the
flickr group
is already starting to look pretty fabulous... and i'm not even an orange fan!
and if you're thinking that your freemotion could use some help,
Leah from the
Free Motion Quilting Project
has started a
new project
for 2012
and Sew Cal Gal is also doing a year-long
Free Motion Quilt Challenge
, with monthly prizes!
or how about something completely superfluous?
QuiltJane
is hosting a "
Dress up your Roll
" contest. Yes, THAT roll! it is possible to make toilet paper covers that don't involve ruffled dresses and half barbies - just think of them as mug rugs in tube form! you can enter as many times as you like, and the international prize is pretty damn fine. my toilet paper roll might be needing an outfit...
so. feeling motivated? you've got lots to start with!

apparently Fat Quarterly blogged about some of these the other day.... i'd say that this will be a lesson to me on getting my ass in gear and not leaving drafts in blogger for weeks at a time while i add to them - and on keeping up with other blogs - but frankly, i haven't learned anything! it just means that great minds think alike, that's all. right? ;)