okay, catch up time!!
i joined the bird swap on craftster, and then promptly forgot the send date (i was SURE it was friday, but it was really monday...). luckily, i'd been planning my ideas for a while, so it was just a matter of completing them, not thinking them all up from scratch!
i was so incredibly happy with everything i sent! this was seriously such a great swap - i've been feeling kinda eh about swaps lately, because i felt like things weren't being appreciated and such. i think part of that is because i'm in several on-going swaps (the tip in and the chunky 4x4), and on going swaps always seem to lose the excitement after a while. this swap was awesome though, my partner LOVED everything i sent, and posted pics right away in the gallery, and she sent me super awesome stuff that totally suited me in return!
so, enough babble, pictures!
sparkly bird canvasses
these were RIDICULOUSLY hard to photograph!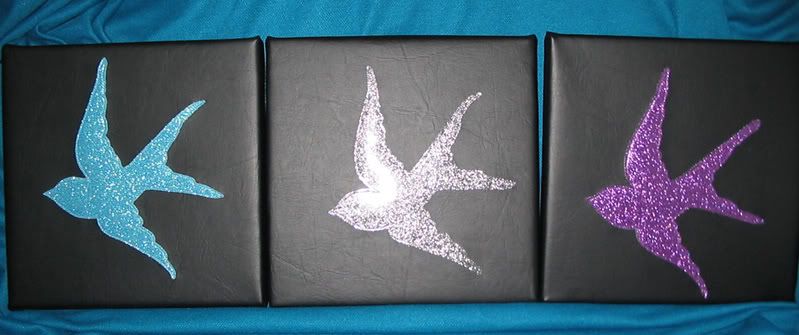 here's another attempt.
i was really excited to make these, because i've been obsessing about doing vinyl canvasses for well over a year now, and i finally had an excuse!
a glittery skull tote!
i know, i know, this isn't really bird themed! but i knew my partner would love it, and i had so much fun making it. it is so bright and cheery. the bag is made out of the same vinyl i used for my octopus stuffy, and it's slightly metallic and so very cool. and i just adore my new glitter vinyl!
it's lined in hot pink twill, and then i added a pocket that matches the main vinyl. i added the bird stamp to make it
somewhat
bird related(!) and then i figured if i was stamping anyway, i might as well stamp her name too.
i also sent her a blue crow tote, like the one i have in my etsy.
and the black owl skirt
i'm really happy with this skirt. this is actually a design i've been thinking of for a while, because i have all these great cottons that i want to use for skirts, but i LOVE skirts made out of knit fabric. the fabulous thing is that tanzie and i are close enough to the same size, so now i have the pattern all drafted and ready to go for me as well!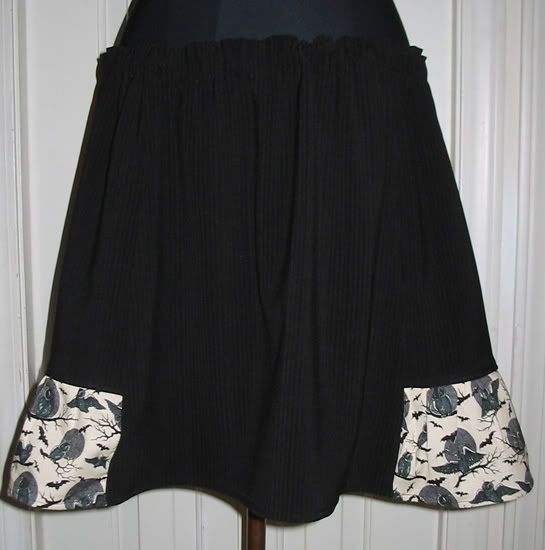 this was my plan, with the ruffles on the sides. it's a bit fuller than i wanted, i'll probably adjust that when i make my own.
i think it looks really cute with the ruffle on the front as well!
my partner's is changing a lot due to health stuff, so she wanted the skirts to be flexible. i made this one with maternity elastic and sewed a button on, so that she can adjust it as needed.
and this is the skirt that i REALLY love!!
white taffeta with black flocking and black owls stamped on!! it's a bubble skirt, and it's so damn cute!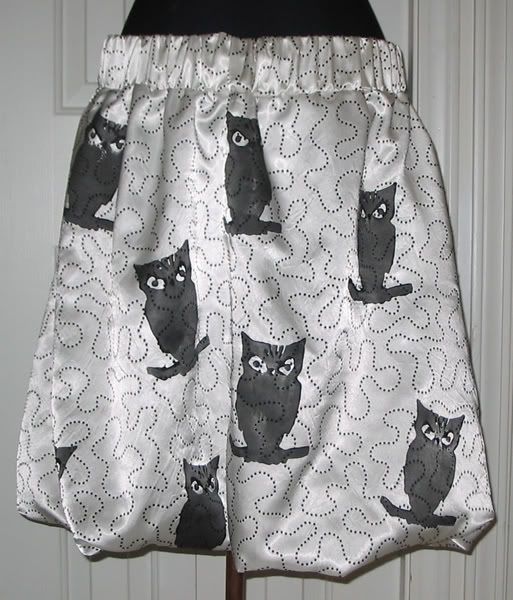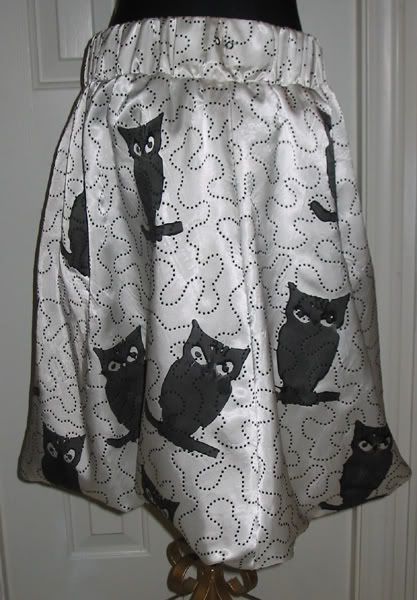 (if you look closely, you can see two black eyelets in the waistband here - it's so that if the skirt gets too big, she can add a drawstring to tighten it)
i used BIG elastic.... i love 2-3" elastics!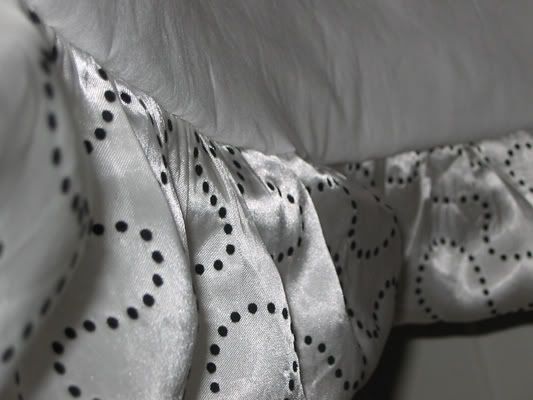 and how it looks underneath. the lining is white stretch cotton. the inner skirt is a lot narrower than the taffeta, so i used stretch to allow for more movement.
LOVE it!!
and for the non-sewn stuff....
i am SO UPSET that there are bubbles in the finish.... i love the necklace so much, it came together so well.... the base is a metal piece from the scrapbooking section at the dollar store (i used them on a tip in page that i posted a while ago as well). i spraypainted it black with krylon. the image is a piece from a russian/german dictionary with a black cardstock bird. the necklace part is from a necklace i took apart, and the hanging feather is from an earring (i buy stuff when it's on sale at the accessory store just to take it apart!). i LOVE this necklace, and i'm so glad i thought ahead and did all the prep work for it in batches of two!! the one i'm making for myself just needs to be asembled. love it!
i also sent her one of the pewter skulls i cast a few weeks ago.
i just strung it on suede-ish cord.
and then i remembered that i had some of the super trendy owl beads (i love them even though they're trendy!)
and so i made this. it's just a lapel pin made out of buttons, with a butterfly clip back.
and then, i made stationary, which i had been seriously obsessing about making for this swap but didn't think i'd have time to go buy the paper. but i did, yay!
i made up the base for the stationary in word, using two columns and typing out the lines in a lighter colour so that they'll print grey. then i printed them, and stamped them. then i scanned the stamped page, and reprinted a whole bunch of them!
there are 5 different colours, 6 sheets of each colour.
i did go A LITTLE bit overboard, i know! but my partner did as well, we both agreed to send extra, so it was okay!