today i went to see my friend j for a brunch party in her new home. as usual, it was lovely to see her, as i quite adore her, and her new home suits her perfectly - a period house, very beautifully kept up, full of her treasures and bits of artwork and pieces with meaning that she has collected over the years, all displayed in such a way that they can be truly appreciated.
it's been commented that upon walking in my front door, it is immediately evident that a costumer lives in my house. at the time of the comment, two of us actually did, and we're both such slobs that it WAS immediately evident. j's house is equally evident, for much different reasons! her collection of sewing baskets, her appreciation for art, her little shrines, all send the same message, but in a much more delghtful way! i wish i could say that one day i aspire to be like her, but i think my packrat tendancies will prevent that from ever happening...
j is a friend who i met years ago, a fellow crafter/artist/quilter/sewer/vancouverite, at a conference half way across the country. after several years of attempting to get together for tea, we finally did, and we've seen each other rather randomly ever since. one of the things i most adore about j, and have since our first meeting, is what an incredibly supportive person she is. though i've appreciated this part of her character immensely within the labour movement, i think i appreciate it even more on a creative level.
every time she introduces me to anyone she knows, it is always with an excited note that "a is an amazing sewer/artist/whichever word she uses that day, and a makes the most incredible stuff!". she is always so full of enthusiasm and support, and it's so appreciated. as artists, i think we all have moments where they wonder if everyone else likes our creations as much as we do, or if our ideas are really as original as we think they are, and as many time as we're told that we rock (my mod girls are quite fabulous about that, actually!), it's still so lovely to hear, especially from someone who makes items as beautiful as j.
as has become our custom, since we see each other so randomly, today we had a bit of a "show and tell" session, with j showing me things that she had made since i last saw her, or things i hadn't seen the last time. of course, everything she showed me was incredibly detailed, with so much meaning behind every little piece. it's immensely inspiring, and something that i wish i did more in my own pieces. i came home today thinking about this, and looking at pieces that i'm planning in a whole new light. i'm very good at obsessively planning detailed pieces, but they rarely see completion, as they're put aside in favour of the quickly completed ideas. i need to work on this.
i took j several of my pewter castings, both virgin marys, as i knew she would appreciate the texture created by the sand, as well as the images themselves. i had intended to make a card as well, but the basement flooding yesterday meant any crafting plans were neglected.
she had unexpected presents for me as well, and they were all so lovely!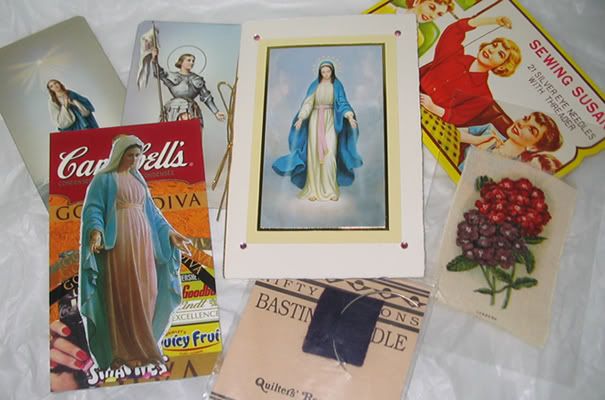 among these are a handmade mary card (as i said, i knew she would appreciate the pewter mary!), with a lady of guadalupe charm inside, and rhinestones on the outside, a basting needle for quilting, a beautiful piece of antique cloth with flowers on it that i need to find the perfect use for, an old needle book, several religious cards, and a card with an image from a piece j herself made for an art show last fall, which i desperately wanted!
as if that wasn't enough, she also gave me a little organza bag with these goodies inside.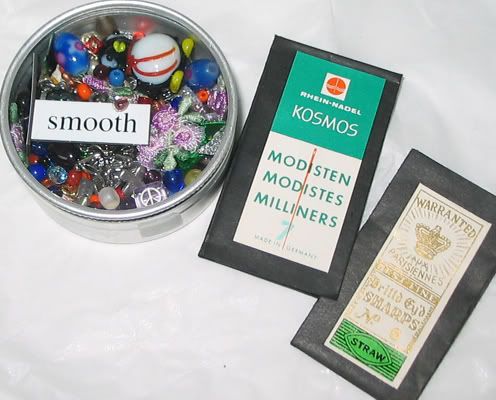 the vintage needles are from a family member who was a milliner (history increases the personal value of everything!), and the little tin of whimsies is actually a strange coincidence. i've seen the jars of whimsies around, but hadn't paid much attention, and in the last few days,
talk has started on craftster.org
of doing a jar of whimsies swap, and i quickly became obsessed with the idea of them and yesterday i was greatly bemoaning the lack of space in my swap queue to participate! the little tin is even more special, because she put it together for me specifically. i resisted opening it immediately, for fear of losing any of it, but i excitedly opened it up once i got home, and it was so much fun! included within lots of beads and little goodies were three magnetic poetry strips that say "smooth" "pink" "velvet", several little charms, including a skeleton, a web with spider dangling down, and a woman symbol, a handful of little flower patches that remind me of doll clothes i had as a child, and so much more.