one of my tip in pages was received today, and i am SOOO excited to share it! i really adore this page, it was so hard to give up.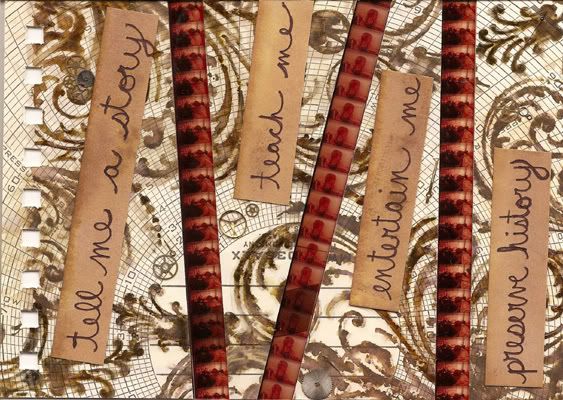 i was thinking about documentaries, and how they "tell a story, entertain us, teach us, and preserve our history" and how if we don't continue making them, our history will be lost (hence the watch gears, time passing). i got the film strips a few weeks ago (
at urban source
), they're fun cause they're narrower film than the ones i usually get.
the raised swirlies are the result of glossy accents (LOVE that stuff!), and the swirlies themselves are rubber stamps that i stamped with multiple shades of brown and black ink, then spritzed with a spraybottle before stamping, to give it a watercoloury look. it's my favourite technique at the moment (
the one the owner of the upstart crow showed me
). and i have no clue what the background paper is, but it's some sort of circular chart, covered in numbers, that i found at
ruby dog's
.
there are three layers, the background on the front, the page itself, and the background on the back. i laid out the film strips, figured out how much overlap was required to keep themn in place, and then i carefully cut the layers all the same (except i had to cut the back twice because i ALWAYS forget that the binding is switched to the right on the back!).
and then i glued just the edges of the film strips to the page, and covered the edges with the background paper. you can see through them everywhere except where the photo and the "what's her story" strip are on the back.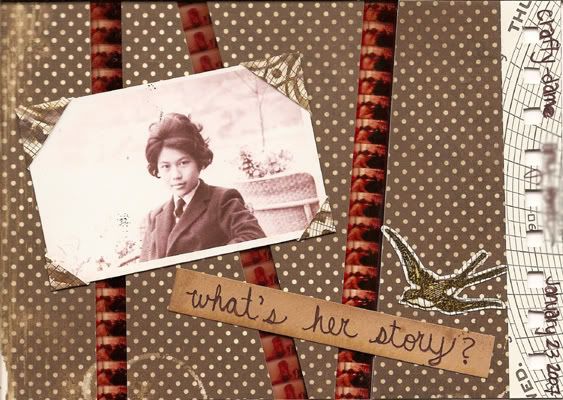 the girl on the back is a copy of a vintage photo
JaneDoe
sent me from Australia, and i love her. i kinda think she's wearing a school uniform, but i'm not sure. i want to know what her story is!
the recipient of the page took some better pictures, that actually show how you can see through the page, i'll ask her if i can swipe them and post them here.