i received a fabulous package on monday, and it made me so happy. i
ordered some zines
from the
ephemeral mailbox museum
and it was such a lovely package.
i wrote up a huge description of it the other day, and then it got eaten by my vicious computer (in reality, more a comedy of errors in which the cat sat on my keyboard at the exact moment that the draft auto-saved), and it's taken me a few days to recreate it.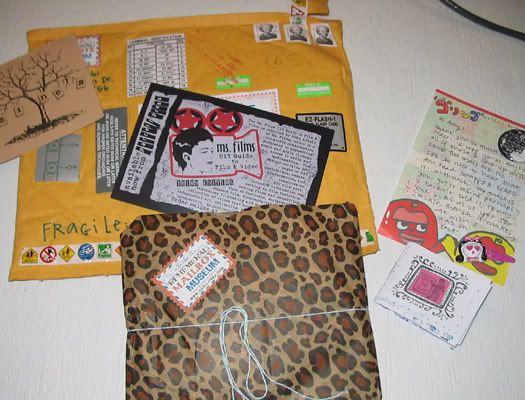 when i opened the envelope (which was decorated with lots of neat images and stickers!), this is what was inside. some cards, a very cool little b&w pin, a little skully hair clip, a super sweet letter, a copy of the mini-zine go by bus and the fabulous leopard print package, tied up with string. the cards are ads for www.parcellpress.com and for ms.films; DIY guide to film & video, another project that niku does. go by bus is an art zine, all colour copied collages with bits of writing mixed in. it's super lovely, and even has a teensy picture of clara bow in it (an awesome surprise!).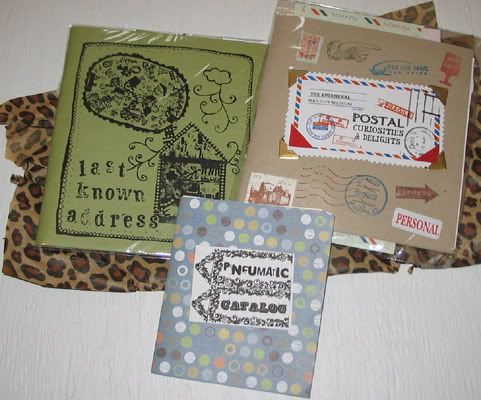 i opened up the leopard print package to find more packages inside! there was a the zine "pneumatic catalog", which is lovely i'm willing to forgive the american spelling of catalogue, and two cellophane envelopes holding more goodies. pneumatic catalog is an art zine made by a group called the scrappy zine co-op in austin, tx. it's all colour copies of 25 original pieces by 10 artists and zinesters and it has a tiny photo album tucked into a library style envelope inside the front cover. the photo album is titled "my family album" and is full of images from vintage yearbooks, etc. so gorgeous.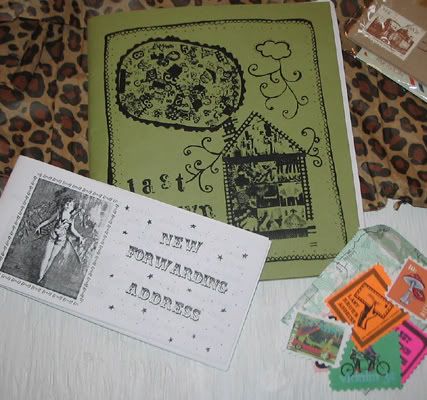 inside one of the cellophane envelopes was the zibe "last known address", which was written for an art zine swap. it's a zine about niku's move to austin, other moves she's made, houses she's lived in, and what moving and the various houses have meant to her. it's full of typewritten thoughts, hand drawn doodles, rubber stamped images, collaged bits and found images. paperclipped (with cool stripey clip) to the back cover are a few sheets of paper with stamped images on them, and tucked inside is a cute little envelope made of an old map. inside the envelope are little art stamps that either say "last known address" or have neat little images on them. the zine also comes with a seperate min zine which niku wrote about a trip to austin that she made before she actually moved there.
the last cellophane envelope held the art zine "postal curiousities and delights", which is a gorgeous zine in which niku talks about the important of mail in her life. it's typed on an antique typewriter and is full of collages, stamped images, old postal stamps and more goodies. it's a really amazing zine, especially considering the amount of work that goes into assembling each copy! the envelope was also full of little bits of ephemera from niku's collection, some of which i used the day after receiving them, i couldn't resist!
all in all it was an incredible package, and i think my
aforementioned
i've-never-met-you-but-you-seem-super-cool crafty crush has developed into adoration!
(please note that bits of the descriptions came from the etsy shop!)
in other crafty mail news, i sent out a bunch of packages earlier this week, and most have been received, so now i just have to get around to posting everything i made! i've also been receiving lots of goodies! halloween postcards from the postcard swap i'm in on craftster, and halloween ATCs from the halloween atc swap i'm organizing on craftster. i've envisioned an awesome way to display all the halloween atcs, i'll be sure to post it if it actually happens!