i haven't made a quilt in years, and lately i've been obsessing over starting again. i've got some ideas for quilts i'm going to work on before christmas, but i was impatient, and wanted to make one NOW.
i signed up for the weekend halloween swap on craftster.org, and i figured i'd make a halloween quilt with the ridiculous amounts of halloween fabric i have.
my partner was psyche, and we have super duper similar tastes - our bedrooms are even the same colour scheme (eggplant and black)! we agreed to do a bigger package for each other, we said 6-8 hours, and this took me about 7 i think.
i just did a simple rail fence, since i was doing it on such a deadline. the purple spider web fabric is from a fancier quilting store, but i got it 50% off so it was actually affordable, the purple i already had, and the black swirly fabric i bought by the pound from a fabric outlet in burlington, wa. it was $2/pd and i got yards and yards of it for $5.50! i used the black for the backing as well. the batting came from the same place, so i don't know exactly what it is - it's a poly/cotton blend, but it's flat like cotton batting. (i'm not familiar with all the batting options you guys in the US have! when i used to quilt more, we only had 3 batting options available in canada!) regardless, the batting handled well, and was $15 for 10 yards (45" wide), so i couldn't pass it up!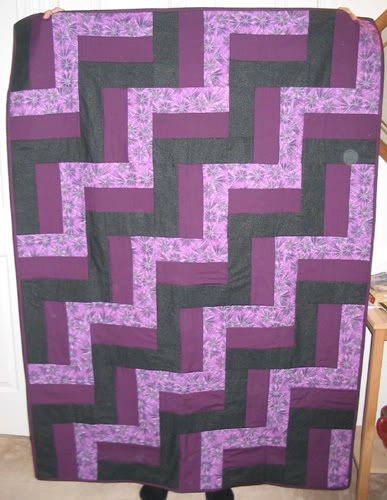 i forgot to measure it before i mailed it (oops!) but it was
supposed
to be about 45" x 65", so i'm assuming it came out about that. it's the perfect size to wrap around you lengthwise.
i tried to use my walking foot for the first time, and i hated it, and then i tried to use the spring quilting foot, and the tension was terrible, no matter what i did, and i had no control over it at all, so i just did the quilting like regular sewing and stitched in the ditch. the batting was pretty thin, so it worked okay. my stitching in the ditch was not perfect at all, and i think i'm going to invest in some clear thread for my next one!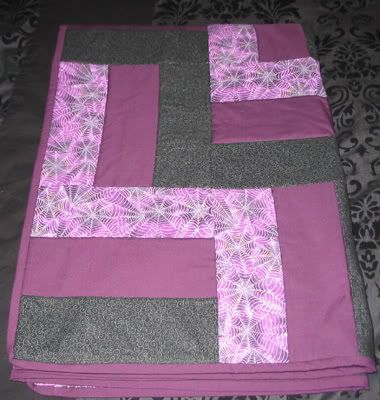 i'm perfectly willing to admit that my binding was mediocre... but i figured it was still a decent job for a weekend quilt!
(click the pics to see the whole thing)