my last WIPs post was long, because it was several weeks worth of projects, but this one doesn't have much to report. i've been spending a lot of time at my parent's place this past week, and as a result, i haven't gotten a whole lot accomplished, sewing-wise. however, i did suceed in getting one of their cats to have a nap with me today - kitty joined the family back in may, and though she's mellowing to us, she's not very cuddly yet. honestly, i was kind of surprised that she actually came when i called, and i thought she'd stay with me for a few minutes. i woke up an hour later, and she was still curled up against my back! it was pretty sweet.
but anyway, back onto the sewing topic. i posted a WIP photo of my
Outfoxed
quilt
yesterday
, and i started quilting it today. i'm not sure if i'll get it finished by the FVMQG meeting tomorrow night, but i'm hoping. cross your fingers! i am totally totally loving the quilt, and i can't wait to finish the quilting.
have you seen the Drunkard's Path Quilt-a-long that Kristie of
OCD
and Kate of
Needle and Spatula
are doing? i know, i know, i already have way too many projects on the go....
but i'm so tempted! i've been dying to make some quilts with curves lately. however, i know that i definitely don't have time for a project that has to be cut out with templates, and sewn very precisely. i started thinking about some improv circles that i'd done, and wondered how they would work. Kate has written a tutorial for
wonky drunkard's path blocks
, but they're not quite as wonky as i was thinking, so i just did it my way. i wanted to try it before i cut a whole bunch of fabric for a full quilt, so i pulled out some of the
Spooktacular
charms leftover after i made
those halloween blocks
a few weeks ago. i made 16 blocks, and then wondered what the hell i was going to use them for! using 5" charms, i ended up with 4.25" blocks after i trimmed them - i played around with them for a bit and decided to use them for the VMQG Halloween block challenge that the other blocks i made were for. i had to trim them down so that they'd fit the size requirements, but considering that i really just made them to play, i wasn't too concerned.
i sewed 4 blocks together, creating 4 - 6.5" blocks for the challenge. i like the effect, especially on the two brighter blocks, and if i do decide to pull together a drunkard's path quilt, this will definitely be how i'll do it.
this week's
iron craft challenge
was Halloween themed, so the blocks fit that perfectly!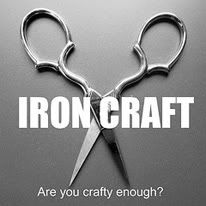 i haven't made an progress on the Billboard quilt, FVMQG's Mod Sampler Quilt-a-long, the Across the Sea Quilt-a-long, the Blue and Brown baby quilt, either of the Bowtie Quilts, or the Sherbet Pips baby quilt. i was hoping to get the second Sherbet Pips sewn together, but i didn't get around to it. i do need to move on it soon, because the recipient will be arriving soon!
other projects on my WIPs list are the ongoing Unscripted blocks, the RSR pouches that are ridiculously close to being finished, the binding on my green kona quilt, that blue and black half-quilted monstrosity that's holding half my favourite basting pins hostage, the blue modern traditional quilt.
somehow, in my big studio clean up at the end of august/beginning of september, i managed to lose the RSR pouches that i'm almost finished, and a big bag full of Kona solids that i'd purchased especially for portrait quilts, full of skin colour shades and hair colours. i'm super frustrated about it, because i've looked EVERYWHERE, but i have faith that they'll turn up at some point. they've gotta be in this apartment somewhere!
on a positive note, while i was cleaning, i found a $100 bill! awesome! it was from last christmas, and it was in a little vinyl pouch that my mom bought me, along with all of the scratch'n'win tickets that were in my stocking. most of our extended family just send cheques for christmas gifts, which my mom then cashes and distributes, so basically, i just found my birthday and christmas gifts from my grandparents, and my christmas gifts from several aunts and uncles. i won $2 on the lotto tickets, and the $100 was perfect timing, because i'm going to a quilt retreat this weekend, organized by the fabulous Krista from
Poppyprint
, so it covered that and a bit of fabric, because i obviously need more! i'm really excited about the retreat, the last one was fabulous! it's 13 hours of sewing, and this time i AM going to rest part way through the day. i need to figure out which projects i should bring with me, because i'm determined to gather my stuff and get it ready BEFORE 11:59 on friday night!
i'm linking up to WIP Wednesdays at Freshly Pieced, along with lots of other folks who've managed to get a lot more done than i have.
woops! i started writing this, and forgot to actually post it (i got distracted quilting Outfoxed!), so i missed the linky thing over on Freshly Pieced. let's just pretend that i linked to it, shall we?