i've been wanting to make one of these from leah's book, the craftster's guide to nifty, thrifty and kitschy crafta, but i was having a hard time finding the faces. i had a few i bought from urban source, but didn't want to use them up if i couldn't buy more, and you never know what stock they're gonna have.
plus, the regular doll faces remind me a little too much of my greatgrandmother. not my style.
so i made fimo faces! and as plus, the fimo is much easier to paint than the plastic would have been!
i rolled out the fimo/sculpey/premo (i forget which?) so that it was super thin, sprayed the inside of my doll faces with water, and then gently pressed the clay into all the grooves of the face. i trimmed the edges and gingerly removed the clay. my own doll faces!
i baked them as required, then painted them. i was originally going to make two gothy dolls, but one of the faces got a little distorted while i was removing it from the mold, so i decided it should be a zombie. i'm sure it wasn't that obvious, just a few wrinkles, but i'm a perfectionist.
so here they are!
first, the gothy doll, complete with little skulls instead of pompoms at the end of the tie-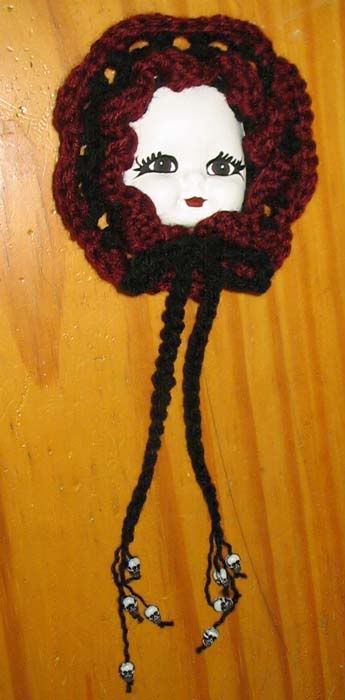 close up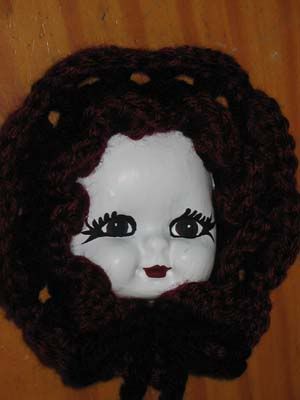 and the zombie doll.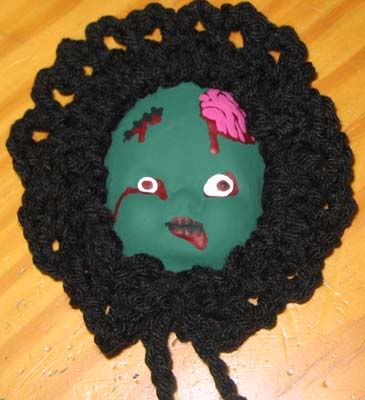 this is what they're supposed to look like.